Josiah Seaton balances state title, Olympic aspirations while wrestling at
BSHS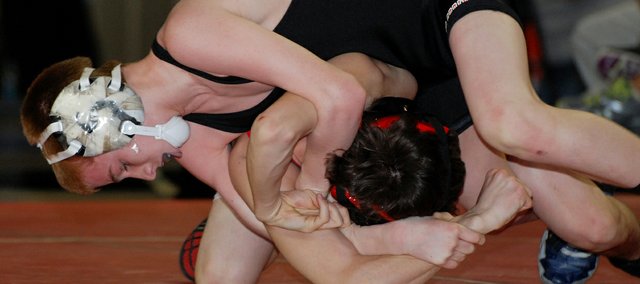 At the Bonner Springs YMCA wrestling mats, the Seaton family makes up a majority of the room.
Jerry, the father, is the Bonner Springs High School assistant wrestling coach and many of his 12 children have followed in that path.
Several of the boys, from elementary- to high school-aged, are practicing and some of the younger Seaton daughters are there for encouragement.
"They breathe and live wrestling," Bonner Springs wrestling coach Brandon Jobe said. "He doesn't force it on them, but he's around it so the kids do it."
One of the middle children, Josiah, is taking it to another level. The 114-pound junior placed fourth at the national wrestling competition at North Dakota in August, a year after placing eighth in the same tournament. As of now, he is fourth in the U.S. Future Olympian rankings in the Cadet category.
When Josiah started wrestling at age 5, he was not a fan. When he was 12, he started to have fun, wrestling freestyle and Greco-Roman, which is used in the Olympics.
He, like many of his brothers, found early success on the mat but discovered a newfound confidence last year when he took eighth at nationals.
"I felt achieved taking fourth, feeling great about myself," Josiah said. "I know first is best, but fourth is a great step up for me."
Jobe saw a change in demeanor that day as well, a confidence and expectation to win each match. That mentality has propelled Josiah to think about one day competing for the Olympics.
"These were the toughest kids in the nation," Josiah said, "so I could maybe compete at the Olympics if I just trained a little bit harder."
He is just 16 years old and has not decided on what college he will attend, though he has a few Division I and II schools in mind. His focus remains on building muscle – he has to get to 130 pounds to compete in college, 16 pounds more than he is now – and making wrestling a 24/7 commitment.
Josiah used to compete in cross-country, track and soccer to stay fit, but he found that wrestling would keep him in better, well, wrestling shape, so he decided to take up the sport year-round.
And it has been hard to keep him away.
After competing in 75 matches this summer, Jobe told Josiah to take a month to rest. He is in high school, after all, and deserved some time to relax. But by the next week, he was back at it.
"That's his mentality," Jobe said.
The Seaton family has seen its fair share of success from wrestling from the other boys, most recently Caleb, who won the state championship in 2011, and Justus, who qualified from multiple state competitions.
Jerry wouldn't speak for this article because he doesn't do newspapers, he said. He is a hard-nosed and traditional coach, but it is difficult for Jerry to coach Josiah because he didn't grow up with the Greco-Roman style.
When his sons are in high-stakes matches, as Caleb was a couple years ago, Jobe describes Jerry as a nervous wreck.
As the stage grows for Josiah, so does the stress for others. But he has his eyes set on the Olympics and no one has higher expectations than he does.
"He's got a lot of wrestling before he gets there," Jobe said.
Jobe is all for the Olympic aspirations, but added that may be looking too far ahead — past state championships, for example.
Stay tuned for our winter sports preview, which includes forecasts for Basehor-Linwood's and Bonner Springs' wrestling seasons.