Military service encompasses diverse duties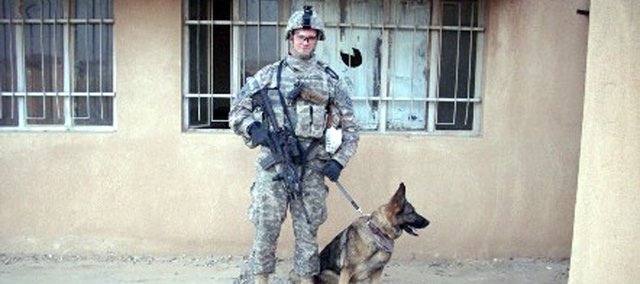 Leavenworth County Veterans Day parade
The Leavenworth County Veterans Day Parade, billed as the oldest Veterans Day observance in the nation and largest parade west of the Mississippi River, will start at 10:30 Monday in downtown Leavenworth.
The parade loop will start at Cherokee and Fourth streets, head east to Esplanade Street, where it will loop around to Delaware Street, head south at Seventh Street and finish at the VFW post.
Grand Marshal for the 93rd Leavenworth County Veterans Day observance will be Herschel E. Chapman. Honorary Grand Marshals are Anna F. (Cavlovic) Scarborough and William T. "Bill" Thompson.
For more information about the parade, visit lvvetsparade.com.
On Sept. 11, 2001, 21-year-old Joe Pate sat with his mom as they watched the Twin Towers fall.
Later that day, he was in an Air Force recruiter's office preparing to enlist.
"I joined because of September 11," he said. "I wanted to do my part."
He went to basic training in March 2002 and started his service with two tours in Kuwait with the Air Force, where he worked as security forces. After discovering an interest in canine handling, he began training with military working dogs to detect explosives and work patrol routes.
After Kuwait, Pate served in Iraq in 2008, continuing his work with canine patrols. When it was time for Iraqi citizens to replace 14 of the 18 local councils in January 2009, Pate was there with his dog, Aida, to make sure polling sites were safe for voters.
"The elections were such a big deal," he said, adding that his main purpose was to clear any possible explosives.
While in Iraq, Pate fell under command of the 25th Infantry Division of the Army because the Air Force wasn't operating in the area, he said. With the infantry, he stepped outside of his role as security forces to participate in raids, searching for wanted individuals and promoting anti-terrorism measures.
Pate said he enjoyed diversifying his duties because most who serve get set on one career track and don't get to experience the different aspects of the military.
"I was very lucky," he said.
Pate enjoyed his service, but it also meant many sacrifices, such as missing the birth of his first two children.
Military families are used to being split up, Pate's wife Heidi said, and there are many sacrifices, but she's proud of what her husband's service has instilled in their children.
"They respect more and appreciate more of what's happening," she said.
When the national anthem is played or the flag comes by in a parade, they're on their feet and at attention, she said.
After nine years of service, Pate retired a couple of years ago and moved Heidi and their three young children to Basehor. For Pate, retirement was made a little sweeter when the military also retired his faithful comrade, Aida.
"For Veterans Day, we always had two veterans in the house," Heidi said.
The Pates cared for Aida until she died in August, and the family will commemorate Veterans Day this year with family in St. Louis.