Republicans sweep Leavenworth County races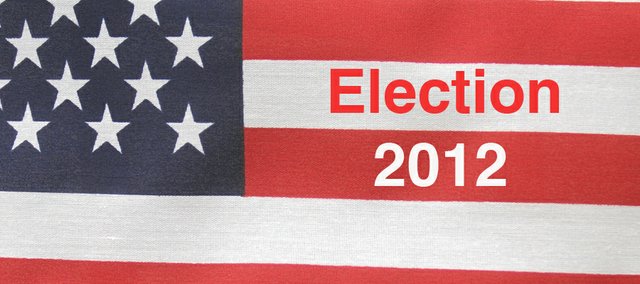 Dennis Bixby said he didn't really make any campaign promises, except for one — taking his wife to Alaska.
Bixby, a current Tonganoxie City Council member, defeated Mike Yanez, the former Tonganoxie city administrator, with more than 62 percent of the vote (6,589-3,953) Tuesday night in the Leavenworth County Commission District 3 race.
"I will work to do my best and I promised my wife a trip to Alaska if I won and that will probably happen in June," Bixby said.
Bixby said he was appreciative of the support he received during the campaign.
"I had an awful lot of really good people help me and this is their victory as well as mine," Bixby said.
He will replace Republican John Flower for District 3. Flower, of Basehor, chose not to seek another term.
Bixby said a top priority would be improvement in his district, which covers the southern portion of the county, including Basehor, Tonganoxie and Linwood.
He said the southern portion of the county is the "growth engine" of the county and better roads would lead to more construction of houses and businesses, which would benefit the entire county.
"The economy set us back a little bit," Bixby said. "Hopefully we're on the mend.
If we can do that, the southern end will explode and grow in the next 10 years. I want to be a part of that."
Willie Dove won the seat for Kansas House 38th District with 57 percent of the vote (6,064-4,508) against Pete Henderson.
Dove said his election shows that people want change in Topeka, and he hopes to bring it.
"We're spending too much money in Topeka, and we need to come back to kitchen-table economics and do what's right for the state," he said.
Republicans scored a clean sweep of contested races in Leavenworth County Races.
Andy Dedeke, current captain for the Leavenworth County Sheriff's office, defeated Democrat and former undersheriff Burdel Welsh (16,611-10,943) in the sheriff race. Current sheriff Dave Zoellner chose not to seek another term.
Todd Thompson won his re-election for county attorney, defeating Democratic challenger Pat Cahill (17,005-10,403), and deputy county clerk Janice Dickson defeated Democrat Thomas Koch (17,606-9,664) in the county treasurer race. County Treasurer Janice Young is retiring and chose not to seek re-election.
Dedeke, who won with about 60 percent of the vote, said he was pleased with the turnout.
"I want to continue building a professional sheriff's office that is responsive to the community and is a great resource to the people of Leavenworth County," Dedeke said.
"I'm very thankful to the citizens of Leavenworth County who voted for me and put their trust in me. I eagerly look forward to taking office and serving as everybody's sheriff in Leavenworth County."
Thompson won in nearly the same fashion, taking 62 percent of the vote.
He thanked voters and said he had a great team.
"It makes me feel like my staff and I really did what was right and necessary for our county," he said.
He also said he was thankful for the support.
"And to those who did not support me, I hope I can change their minds over the next four years," Thompson said.
Dickson won by the largest margin, taking nearly 65 percent of the vote against Koch.
"I was a little overwhelmed at the margin," Dickson said. "I was grateful. Humbled. Surprised. All of the above. I didn't anticipate that I would do so well. But I do appreciate it."
Dickson actually won't take office until October because a county treasurer's term mirrors the tax year.
She said she would be working with Young to "try to provide a smooth transition."
Results won't be official until county commissioners canvass the votes Thursday, Nov. 15. County Clerk Janet Klasinski said there also are 1,225 provisional ballots that will be counted at that time. Voter turnout Tuesday was at 62 percent in Tuesday's election, Klasinski said.
Out of 46,128 registered voters in the county, 28,828 voted Tuesday. Voter turnout for the 2008 general election was 73 percent, Klasinski said.