Taking a look back:
BLHS

volleyball run, state trip for runners highlights fall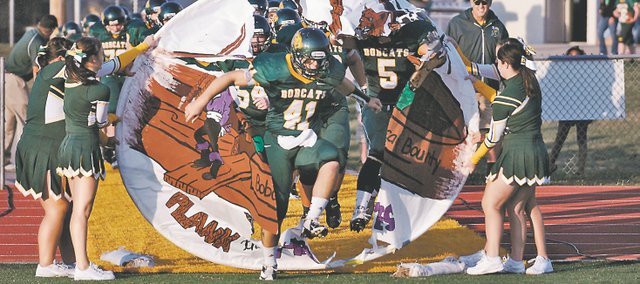 Photo Gallery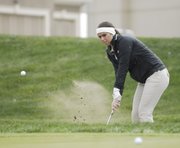 BLHS fall sports in pictures
A look back at some of the fall's highlights caught by our cameras.
If a state volleyball title poster is ever hung inside the gym at Basehor-Linwood High School, the 2012 season, Amy Irvin's second as head coach, will likely be brought up. Irvin's Bobcats, which began the season with three freshmen on varsity, rallied to place second in the Kaw Valley League and win sub-state to advance to the first state tournament in program history.
The achievement, and Luke McGowan's and Joe Vitt's trip to the state cross-country meet highlighted this year's fall sports slate.
Cross-country
Though coach Jeff Venema's goal of advancing one or both cross-country teams to state this season was not realized, those who did represent Basehor-Linwood in Wamego last month made good on the goals set for themselves.
Junior Mark Vitt ran an 18:21, at around the time he had hoped for, placing 74th, another personal goal. Meanwhile, fellow junior Luke McGowan gave the Bobcats a top 50 overall finish with a time of 17:53.
The Bobcats earned victories in both races of September's West Franklin Invitational and the boys won the Santa Fe Invitational earlier that month. Both teams placed second at the season-opening Basehor-Linwood Invitational,
At Oct. 11's Kaw Valley League meet, the Bobcats boys runners placed second overall after six top-25 finishes: McGowan, Vitt, junior Johnny Fulkerson, sophomore Casey Jones, sophomore Jacob Cook and junior Tanner Tavis.
Sophomore Quinnlyn Walcott led the girls team all season, posting a sixth-place finish at the league meet after a time of 16:14. Other contributors on the girls side included junior Rebecca Carroll and senior Haley Staullbaumer.
Football
With the departure of a senior class that led the Bobcats to three straight Kaw Valley League football titles, Basehor-Linwood (4-5, 3-4 KVL) underwent a facelift, eventually finishing in the lower half of the league.
Though finishing below .500 for the first time since 2008, the Bobcats ended the season close — excruciatingly close — to a fourth straight district title. At home on Oct. 25, with a chance to advance to the playoffs, the Bobcats saw an 11-0 lead evaporate as rival Tonganoxie shocked Basehor-Linwood with a late run. Three of Basehor-Linwood's five losses were by margins of six, five and seven points, respectively. The final loss stung more than all others as it ended the careers of 13 seniors.
The Bobcats actually fielded the league's best defense, their 186 points allowed topping Turner (5-4) and Mill Valley (8-2). Against the league's top three teams, however, the Bobcats fell short. Piper (10-2) ended the Bobcats' streak of consecutive regular season victories on Sept. 7 with a 35-22 Pirates victory. The following week, Mill Valley ran over Basehor-Linwood, 47-6. Against Turner, the Bobcats came up just short, 28-22, while the Golden Bears found fortune on fourth down often in the Sept. 28 matchup.
Leading Basehor-Linwood's defense was junior Cory McCleary with 122 total tackles. Junior Jake Phillips added 95 tackles and senior Tanner Garver also had 83. Garver and senior Caleb Hiss each had two interceptions. At defensive end, senior Ben Johnson led the Bobcats with 5.5 sacks.
The Bobcats committed to the run and little else this season, as Garver and senior Zac Hevel combined to pass for just 866 yards, five touchdowns and 11 interceptions. When the Bobcats did pass, odds were they would be looking Johnson's way. Johnson, who committed to Kansas University to play tight end, caught 42 of the Bobcats' 70 pass completions for 598 yards and five touchdowns.
Carrying much of the offensive load was senior Drew Potter, who carried 166 times for 1,123 yards and 15 touchdowns. Garver, one of the team's two rotating quarterbacks, also carried 118 times for 442 yards and six touchdowns.
Girls golf
A season in which several members of the Bobcats girls golf team received their first varsity experience ended last month at the 4A regional tournament in Ozawkie.
Brooke Schler, the team's lone senior, and junior Candice Jennings placed 16th and 19th, respectively, reprising their roles this season of leading Basehor-Linwood golfers at most tournaments. Jennings, junior Julie Lough; sophomore Marriah Clayton and Aubrey Gunn; and freshmen Megan Cunningham, Hanna Dickey, Chandley Easley, Megan Van Fleet and Jordan Blackwood figure to return to coach Bruce Courtney's squad next year.
Boys soccer
The Bobcats boys soccer team rebounded from an early 1-4 start to finish on the cusp of the 4A state tournament.
Senior Trey Kincheloe led the Bobcats with 19 goals and earned first-team All-Region honors by the Northeast Kansas Soccer Coaches Association. Kincheloe was also named to the second-team All-Kaw Valley League Team, joined by seniors Sammy Seaton and Juho Luomajoki.
Honorable mention All-KVL senior goalkeeper Cameron Kennedy recorded 187 saves in 18 games and allowing just 1.6 goals per game while posting four shutouts. Senior Gage Zumbrunn led the team with eight assists, followed by Seaton and sophomore Zach Ferguson with seven.
Ferguson and Seaton also received honorable mention nods on the All-Region team. Ferguson, who scored seven goals this year, was also an honorable mention on the All-Kaw Valley League team, along with Kennedy. The Bobcats finished 8-9-1 after a 1-0 regional final loss to Tonganoxie on Oct. 26. Overall, the Bobcats scored 41 goals with 31 assists, allowed 29 against and lost to two eventual state champions: Bishop Miege, 5-1, on Aug. 27, and Topeka Hayden, 3-0, on Sept. 4.
Volleyball
In just her second season as Basehor-Linwood volleyball coach, Amy Irvin took the Bobcats to previously unreachable heights. After issuing a declaration amid the pomp and circumstance of senior night that a bus ride to the 4A state tournament in Salina would be the most satisfying conclusion to the season, Irvin's team made good on that goal.
The Bobcats — led by seniors Brandi Stahl, Jamie Johnson, Haley Waters and Samantha Rutherford — downed Lansing to secure second place in the Kaw Valley League on Oct. 16 before heading to Tonganoxie, where they captured the program's first sub-state title on Oct. 20. Though the Bobcats failed to make it out of the first day of the tournament on Oct. 26, their season did not go unnoticed.
Recently, Irvin was selected by the Kansas Volleyball Coaches Association as the small class coach of the year and will coach a Kansas All-Star team that includes fellow honoree Stahl against Missouri's All-Star team at 5:30 p.m. on Sunday at Avila University.
Stay tuned for the Nov. 15 issue, where we recognize the BLHS senior honor student athletes.