BIS

students celebrate local veterans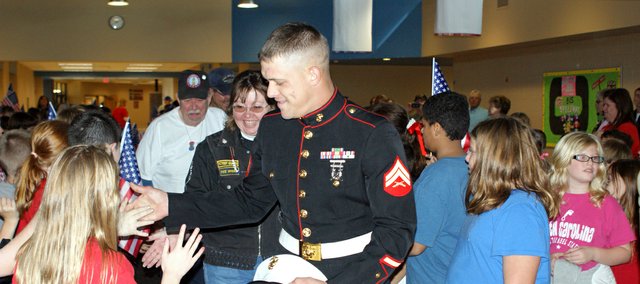 Basehor Intermediate School students honored local veterans Friday at their annual Veterans Day program.
A full escort by Patriot Guard kicked off the event in front of the school with Fairmount Township Fire Department raising a huge flag in the parking lot. Once inside the school, veterans from all branches of the military, young and old, walked through a flag line to their seats for a presentation from fifth-grade students.
Students and teachers put together a video for the program to highlight veterans' stories as well as short interviews with students in which they explained why they're thankful for veterans, what it means to be a hero and why they're proud to be an American.
"A hero is someone who saves other people's lives," one student said in the video.
Another said he was thankful for American's right to freedom of speech and religion.
Veterans chuckled at one student's answer: "I'm thankful because we don't have to speak another language."
The annual event also kicks off fifth-graders' Wreaths Across America campaign, which takes place Dec. 15. At the end of the program, students received the proceeds from the spaghetti dinner fundraiser they held at the VFW earlier this fall. The dinner raised $400 toward the school's Wreaths Across America campaign, which will buy 40 wreaths for veterans' graves in Fort Leavenworth National Cemetery.