Big Shot Brad Watermaker:
BLHS

grad earns new nickname in college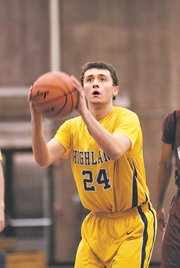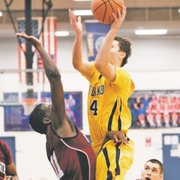 There are two stories, really: the story of Big Shot Brad and that of The Watermaker. One narrative completed, the other just beginning.
As far as nicknames go, Brad Waterman earned the title "Big Shot Brad" relatively late in his high school career. But, coach Mike McBride said, it seemed like every time Waterman entered a game last season, something special followed.
As much as any player, Waterman played an integral role during Basehor-Linwood's 2012 Class 4A state title run in March. He came off the bench as a sixth man and drained enough 3-pointers to either keep the Bobcats in the game or help them push down the pedal.
After a severe wrist sprain took him out of the starting lineup early last season, the Bobcats' starting five developed a chemistry that dictated a new role for Waterman.
He didn't sulk, didn't think McBride was out to get him and didn't rethink his future in the game. Instead, Waterman watched his points per game soar when he subbed in and shot over tired opponents. A cool demeanor concealed an on-court aggressiveness his long, 6-foot-4 frame hinted at.
Had he taken the new role — and having played junior varsity as a junior — the wrong way, there might be one less banner inside the BLHS gym.
"I just really wanted to win," Waterman said. "Whoever was out on the floor, I just really wanted to win."
On a team featuring Colin and Ryan Murphy, Ben Johnson and a young group of guards working the floor, Waterman became a cruel site for many opponents when he subbed in. He dunked on Perry-Lecompton on the first round of sub-state. He led the Bobcats with nine points at halftime in the first round of the state tournament, helping engineer a 6-0 run to prevent a blowout first-round exit. Down 12 at halftime against Pratt in Salina, Waterman helped the Bobcats avoid a deeper deficit, hitting multiple baseline jumpers to stop the bleeding. And in the championship game, as the Bobcats put it to Ottawa early, Waterman's proficiency from behind the arc proved unrelenting.
The next month, having capped his high school career, Waterman drove up to Highland Community College for a visit, unbeknownst to McBride.
"For him to go and take the initiative to do that, that was awesome," McBride said. "It show's that he really wanted to play."
Waterman soon found, 90 minutes north of home, his path to the next level.
Act II: "The Watermaker"
There was a time early when Highland men's basketball coach Jerre Cole worried he'd lose Waterman, that the homesick freshman would pack up and go back home.
"I'm sure it crossed his mind from time to time not to do this thing," Cole said.
But as scrimmages neared, Cole saw a change. Suddenly the player who was one of the Bobcats' sharpest shooters resurfaced.
"Every once in awhile he'll show you a little bit more athleticism than maybe he wants to show. He'll go in and grab a college rebound and do some special things," Cole said. "He's got that big-game mentality; he can knock down big shots."
It took Waterman little time to establish a reputation among teammates, earning a new moniker in the process.
One day in practice, after drilling yet another 3-pointer over teammate Martell Collins — "in his eyes," Waterman said — a new name stuck.
"They get mad and call me the Watermaker," Waterman said.
On Friday, Waterman's team played its second regular season game, a 107-64 rout of Wentworth Military Academy, part of an early-season invitational at Kansas City Kansas Community College. McBride, BLHS strength and conditioning coach Ross Schwisow, Waterman's family and several former teammates watched from the bleachers as Waterman scored 10 points and six rebounds in 16 minutes.
"He's a next level guy," Cole said. "He's going to make himself attractive to Division I and Division II coaches out there."
Waterman hit two of his three 3-pointer attempts, was 4-of-4 at the line and also blocked a shot. But there were still the growing pains of a freshman player as he committed three turnovers and watched a pair of passes pop off a teammate's fingertips out of bounds.
"You're not used to those guys being able to steal the ball as easily as they do here," Waterman said.
Cole said he liked what he saw offensively, but that he wants Waterman to take better care of possessions and shore up his defense.
Already, McBride sees a story he can share with future generations of Bobcats players. He tells his kids each season if they really want to play college basketball, there are places to play.
"He's one of those kids that's proven that," McBride said.
Waterman wanted to play at the next level, and saw an open door ahead of him. A lot of people can say they want something, McBride said, but what they do to go get it is what counts.
"It's a testament to who he's going to be forever," McBride said.
Waterman will have plenty of chances to work his way up, as all but one of Highland's players are freshmen. Early on, Cole is running a five-man rotation, subbing players in and out frequently.
"I tell him, 'I'm giving you this many minutes right now. Are you going to keep them, build them or give some of them back?'" Cole said.
There's much yet to be written of this new chapter, the Watermaker. Early on, the Scotties haven't had much of a challenge, winning their first two games by more than 50 and 40 points, respectively.
They haven't needed a big shot — yet.