Bobcat Wrestling Club anticipates growth in second year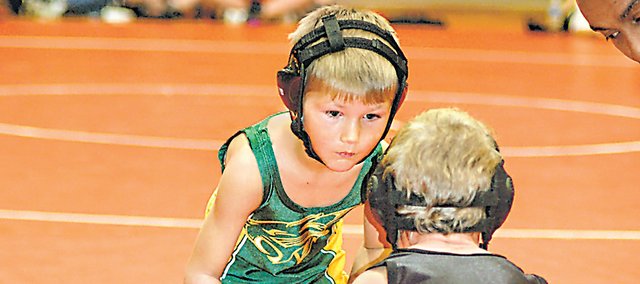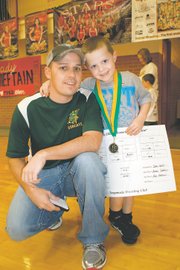 High school wrestling programs and their area youth clubs work best when they're akin to families.
So it's fitting that James Gallet, a 1993 graduate of Basehor-Linwood High, is leading the resurgence of youth wrestling in Basehor.
After all, it was Gallet's uncle, a former wrestler, who introduced Gallet, then in sixth grade, to the sport. Years later, the former Bobcat wrestler and seven-year referee returned to the sport at the behest of his nephews.
The Bobcat Wrestling Club is in its second year and is expecting more than 80 participants, up from 56 in 2011. Gallet figures to reside over his second uptick in enrollment, having led a similar club in Tonganoxie for four years. Gallet watched that club's first-year enrollment of 36 swell to 108 the next year. Before long, Gallet noticed a number of Basehor families at the club.
"So naturally the thing for me to do was to start a new club in Basehor," Gallet said.
Prior to last season, Gallet went on a recruiting spree of sorts, convincing coaches he worked with in the area and former teammates to come along for the ride.
In their first season, the Bobcats sent six wrestlers to state, several of whom nearly took home medals.
"I was really happy with the turnout last year," Gallet said.
Gallet credited word of mouth for the strong debut season, and he was pleased to learn that nearly 45 of the wrestlers had never stepped on a mat before.
"We had a good core group of parents that wanted this to happen and also a good core group of coaches," Gallet said, adding: "(BLHS athletic director) Joe Keeler was all for us having the club here. He welcomed us with open arms and let us practice at the high school. Anything we needed he helped us to get it."
Another member of the BLHS athletic department is happy about the club's presence in Basehor: first-year BLHS wrestling coach Tyler Cordts.
"He has done a great thing for the community and for our kids," Cordts said.
Cordts' addition to BLHS was welcomed by Gallet, who called Cordts "nothing but fantastic."
"He wants to see our club flourish and for our kids to end up wrestling in high school," Gallet said.
Gallet said that when the BLHS wrestling program was at its strongest in the early-2000s, it was boosted by having youth programs in the city to develop future Bobcats. Better still is when high school and youth programs coordinate game plans so as to prepare young wrestlers for the style they'd practice at the high school level — something Gallet hopes to implement.
Practice begins Nov. 27, Gallet said, and sign-ups are still welcome now and at any point during the season. Last year, he said, some families didn't find out about the club until one month in, but were still able to join. Gallet said those interested in signing up can call him at 913-238-1727 or email him at jamesg@envirotechks.com. The club also has a Facebook page at facebook.com/pages/Bobcat-Wrestling-Club/151401861593673.
In year two, Gallet said, the goal is to double the number of state participants from the Bobcat Wrestling Club, while sending a few to the medals podium. State qualifiers receive decorated hotel rooms, and shirts and shorts to commemorate the trip. Gallet said the club pays for the costs of travel and lodging, and also hosts a pizza and awards party at the end of the season.
To help cover costs, Gallet seeks sponsorships from area businesses, whose businesses are then advertised on the team banner hung at each tournament.
The club will also host a Breakfast With Santa event from 7 a.m. to 10 a.m. on Dec. 8 at Father Quinlan Hall inside Holy Angels Church, 15440 Leavenworth Road.
Whether a child has deep family ties in the sport or not, Gallet can assure them at least one thing: by the end of their career, they won't have to go far to find an old friend connected to the sport. And, in Gallet's case, they may have older or younger family members around to draw them back to the sport.
"It's just a good sport," Gallet said. "There are people throughout the community and all over town and other cities that I knew from wrestling. The relationships you build in the sport continue on through college. It's an individual sport, too, so there's no team to hide from. It teaches you discipline."