In the outfield,
BSHS

senior finds path to college baseball career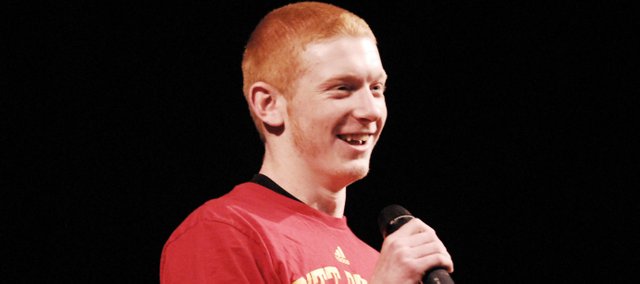 Inside the Bonner Springs High auditorium, before an audience of family, peers, coaches and even a few Basehor-Linwood friendly rivals, BSHS senior Logan Terrell took the microphone during a ceremony of his signing a letter of intent to play baseball at Pittsburg State University.
"Whoa," he said.
It was an appropriate summation of how this all came together, how a summer showcase tournament in Pittsburg generated enough interest for the Gorillas' Division II program to send an offer Terrell's way. Thursday in the auditorium marked the culmination of that journey, an end to the search for a spot at the next level and a weight lifted well ahead of his senior season.
"Takes a lot of pressure off of me that's for sure," Terrell said after the ceremony. "I know what's set next year and what I need to do this year."
That means building off a season in which the Braves finished 5-16 but saw their core of young players — including four freshmen — become a unit capable of putting eventual 4A state champion St. James Academy on the ropes in the regional tournament.
Late-season splits against Tonganoxie and Basehor-Linwood, coupled with the 3-2 loss to St. James helped show a young team under then-first-year coach Scott Lero what it could accomplish. Terrell's signing on Thursday marked another step in that direction.
Sitting just a few rows to the left of the stage after the ceremony, Lero looked on as five players lifted their shirts to reveal "L-O-G-A-N" painted on their bellies and as Terrell and teammates later huddled for a team picture.
"This right here is a really good sign," Lero said. "A lot of those guys up there are ones who will be on the varsity field this year. They're probably now thinking, 'oh man, I want to (have a college signing ceremony) too.'"
Lero said that over the summer, he and Terrell figured his best shot at playing college ball was as an outfielder. Terrell had already made the switch from shortstop to second baseman in the spring. But it was in the outfield, Lero said, where Terrell could best showcase one of his strongest skills.
"He's speed," Lero said. "He's a coach's dream. You can do so many things with speed."
That, and batting on the left side of the plate, made Terrell an attractive prospect to Pittsburg State coach Matt Murray.
The position change came at an opportune time for Terrell, whose participation in an August baseball tournament in Pittsburg set in motion the steps that led to signing his letter of intent. With family ties to the college, Lero said he wouldn't have been surprised seeing Terrell attend the college without a baseball scholarship. That he'll be heading down there a future Gorilla outfielder makes the moment that much sweeter.
"It was pretty quick for him," Lero said. "It's kind of really good match: that's where he wanted to be and they want him there."
Lero said Terrell will anchor the Braves' centerfield position come spring. It's a spot that, if helping lead to a college career wasn't enough, also has a comfortable feel for Terrell.
"I loved it," Terrell said of playing the position this summer. "I'm a lot better outfielder than I am a second baseman. I think it just kind of all fit."