Council decides upon annexation funding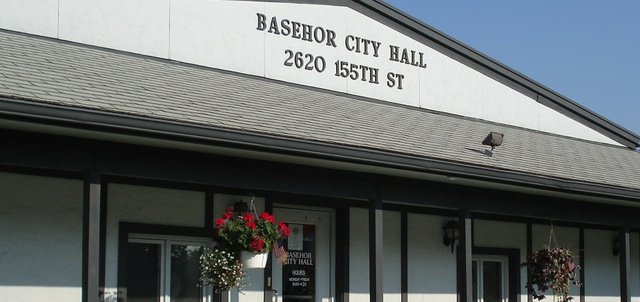 Basehor City Council members pushed forward with the annexation of four plats at Briarwood Estates during their meeting Monday night.
First, members had to come to a consensus on how to fund the extension of city services.
Bond counsel Gina Reikhof of Gilmore and Bell, P.C., and financial adviser Bryan Kidney of Springsted Incorporated presented two options for general obligation bonds: one in which the city would be repaid through contracts with the property owners, and a second in which special assessments would be levied against the properties receiving sewer service.
Council members decided to pursue the second funding option, which levies special assessments, because there's more responsibility on the property owner to pay the city back.
"It would be the least risky to the city because you have collateral," Reikhof said.
The collateral is the city's ability to sell the property if not repaid, whereas the other funding option only binds property owners through a contract.
The disadvantages of the plan, Reikhof said, is that it will be more procedurally intensive and, although there's currently an interested buyer for the bond, it can be difficult to find a buyer for such a small bond with a long-term repayment.
The council needed a consensus to move forward with the annexation process, and Reikhof and Kidney will return to the next meeting in December to update the council when they can pass a resolution on final funding procedures.
As part of the annexation process, council members also approved the annexation resolution and a public hearing for 7 p.m. Jan. 21 at Basehor City Hall.
Members Vernon J. Fields and Ty Garver were absent from the meeting.
In other business at the meeting, council members:
• Approved the Field of Dreams operating contract with National Youth Sports Sanctioning Organization which requires NYSSO to pay the city $35,000 plus utilities for use of the facility.
• Approved a new commercial sewer connection fee. The new commercial sewer connection fee structure will charge builders $3,450 for a building up to 11,500 square feet. Any structure larger than that will be charged an additional 30 cents per square foot.
• Approved an extension of Neighborhood Revitalization Programs that were set to expire Dec. 31 of this year. The resolution will have to be approved by the Leavenworth County Commission.
• Congratulated Gene Myracle, city superintendent, and his crews for winning Kansas Municipal Insurance Trust's Gold Star for Loss Prevention Certification Program. It's the 10th year in a row the city has earned the recognition for safety in the workplace. The award allows the city discounts on insurance premiums.
• Passed the consent agenda, including the treasurer's report, Oct. 15 minutes, liquor retailer license for Shorty's, cereal malt beverage license for Casey's, independent external audit services agreement and Ordinance 620 court costs amendment.
• Convened for a 15-minute executive session to discuss personnel matters.