'Everybody's gunning for us':
BLHS

title defense begins without Johnson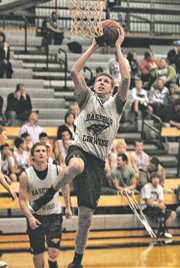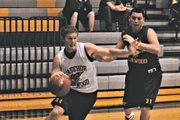 Photo Gallery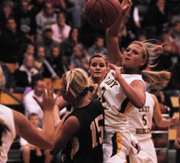 Nov. 16: Meet the Bobcats
BLHS fans got their first glimpse of the 2012-13 girls and boys basketball teams on Friday as the two played a pair of scrimmages. The wrestling team will scrimmage at 7 p.m. on Nov. 27. Stay tuned to the Nov. 21 issue of the Sentinel for a basketball season preview section, followed by a wrestling preview on Nov. 28.
Inside the Basehor-Linwood gymnasium, giant team photos depicting the school's two boys basketball state championship teams are in full view from nearly any angle.
The second banner, the one earned during last season's 23-3 run, followed by three seasons the program's first title won in 2009. As BLHS coach Mike McBride sat inside the empty gym one afternoon before the start of this latest title defense, it became apparent that the two seasons separating the banners could prove every bit as instrumental in creating future triumphs.
"To be honest, I didn't put the kids through the grind I did in 2009 and again in 2012," McBride said of 2009-10 and 2010-11.
Translation: Forget any talk of a honeymoon season.
"This isn't going to be easy," McBride said. "Everybody's going to be gunning for us."
Complicating matters early, the Bobcats will be without 6-foot-4, 235-pound senior Ben Johnson, who will be out of the lineup until after winter break rehabbing a sore knee.
McBride confirmed the news with the Sentinel on Monday after Johnson visited with a physician to determine whether he would have to sit out his final season. McBride said Johnson noticed discomfort last year and has had little time to rest his knees between playing multiple sports.
Fearing the need for season-ending surgery, Johnson visited a doctor on Monday, where no such damage was found. Instead, he will sit out at least the first five games of the season, which begins Nov. 30 against Bishop Ward. The first game after winter break will be at home on Jan. 8 against Mill Valley, on the short list of teams expected to contend for the Kaw Valley League title this season.
"I kind of owe it to my teammates to play for them and to try and repeat," Johnson said in a recent interview.
During his junior season, Johnson averaged more than 10 points and five rebounds per game and defended the state's top-ranked recruit, Ottawa's Semi Ojeleye, in the state title game.
With the graduation of seniors Colin and Ryan Murphy, Johnson will be looked at as one of his team's primary leaders upon his return. And yet while both Murphy's depart career 1,000-point scorers and notched a combined 33.7 points and 15.5 rebounds per game last season, the task of filling that void won't be Johnson's alone.
"He doesn't have to go out and sell his soul and he doesn't have to go play the other team's best player all the time," McBride said. "Just let the guards do their thing and he can pick up the trash. That's the fun thing: he doesn't have to come in thinking he has to be the man; he can have fun with the game."
Those guards are juniors J.P. Downing and Chase Younger, whose performances in the state tournament did as much as any other player toward bringing home the program's second trophy. And as much as anyone, the Bobcats' fortunes will continue to be dictated by the pair, who now possess larger roles.
Downing and Younger will also be joined at times by fellow junior Zach McNabb, another member of a suddenly deep talent pool.
"If he figures out he's as good as I know he is," McBride said of McNabb, "he's going to be really good. The kid can shoot from 30 feet. I watched him hit 11 threes against Lawrence Free State over the summer."
McBride called Younger, who finished fourth in scoring last year with 9.7 points per game, one of the team's best athletes. This year, however, Younger will suddenly be tasked with adjusting to having the other team's top defender on him.
"It will be a little different look for him," McBride said. "It's something I can't coach —something he has to figure out."
Downing, meanwhile, will lead the offense on most nights at point guard, a position in which McBride expects him to thrive in the next two seasons.
"He has a great understanding of the total picture and tells other people where to go," McBride said.
Matt Ogilvie, a 6-foot-3 senior, will have the chance to start in Johnson's absence with 6-4 sophomore Carson Fliger also in the mix for playing time.
"Matt Ogilvie is going to be huge," McBride said. "Very athletic. He doesn't catch the ball very well but his lateral movement for his size is incredible."
Juniors Tim Sanders and Andrew Magana, sophomore Broc Lindsay and freshman Jahron McPherson are also players McBride said the Bobcats may rely on this season.
When talking about McPherson, McBride smiled and lowered his voice, as if in fear of giving away too much.
"He's really good," McBride said. "Yeah, he'll be in the varsity rotation. His defensive quickness is as good as all the juniors. He's got a lot to learn about the game, but I foresee him by the end of the year helping the program."
The program. That is what this has become. By the time a freshman steps on the court each year, McBride will have often already met the athlete, perhaps even having known him for a few years. Recognized by the Kansas Basketball Coaches Association as the coach of the year last season, McBride said he should be expected to field a strong roster each season having been at the school for nine years.
But having as many options as BLHS has at the ready goes a long way toward the Bobcats remaining in the KVL title hunt after graduating two of the school's most decorated players.
Still, the Murphys' contributions to the program couldn't possibly be understated. And while waiting for a young rotation to come into form, the Bobcats may lose a few early. McBride has said he expects as much.
"We're not expecting a major fall," McBride said. "Are we state championship caliber every single year? No, I'm not going to say that. Do we have a chance to get to state every year? Yes."
After the first championship, McBride said the perception of that team was that it was lucky. If that was the case, he said, 2012's championship was earned.
"I don't think they can say Basehor-Linwood's lucky anymore," McBride said.