First-year
BSHS

boys coach doesn't think young Braves team is far from contention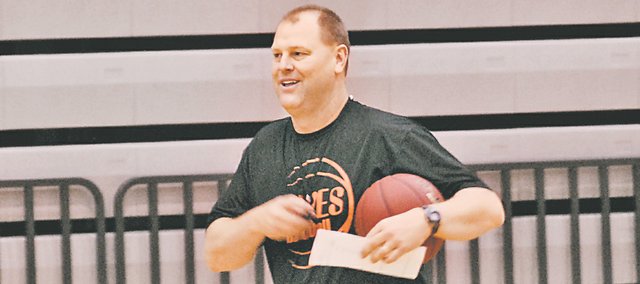 About three years ago, when former Bonner Springs basketball coaching Andy Price was contemplating accepting an offer for a job that he once had, he called Dan Streit. The two had previously coached the Braves and both had stepped down, so Price wanted to see if Streit wanted the position this time.
At the time, Streit had no intentions of being a head coach, but was lured into a fourth assistant job. Price compiled a nice record the past two seasons, 15-6 in 2010-11 and 16-6 in 2011-12. More importantly, he had a system in place that proved effective. But it would be short lived as Price accepted an information technology director position at Ottawa High in January.
It would have been a shame for the Braves to start over with a new coaching staff after such a monumental stretch for the program.
"We both told ourselves that we would see it all the way through," Streit said.
To keep the tradition going, Streit won the job and he enters his first year as head coach. It's an easy transition given the circumstances. He has known the players and system for years, conferred with some head coaching decisions as an assistant and has worked with the players all summer. The only speed bump is the loss of eight seniors, four of them starters.
Junior Jordan Jackson is the only returning player with true varsity experience. Austen Twombly, Lawrence High transfer and nephew of Braves girls basketball coach Clay Oakes, gives the roster a welcome boost.
A group of former JV players will take their chemistry to the varsity side this season including Tyler Howell and Brandon Moore. Streit can't say for sure how effective each player will be this season, but he thinks he has a collection of capable players.
"If Austin's hitting from the outside and Jordan's doing his thing around the perimeter, Tyler could have a heyday inside with his size because nobody in the league can match up to him," Streit said. "I look for good things. Whether that equals out to wins or losses, I don't know."
Though Streit will keep much of the Price game plan intact, he is going to add a few wrinkles partly to fit his players, partly to fit his coaching style.
"My approach is a little bit different than Coach Price's because I'd rather get my offense generated by what my defense is doing and not necessarily have to come down with a set play," he said.
Last year's Kaw Valley League champions and eventual state title winners, Basehor-Linwood, graduated twins Ryan and Colin Murphy, and most of the league's teams have undergone several changes in the offseason. Streit trusts in what he has.
"I'm my honest opinion," he said, "I look at ourselves as one of the top four teams in the league. Now, whether we are or not, I don't know."
That's the bar. The question is if his players will reach it.
"That's up to them to decide," Streit said.
The Braves' Black Orange Scrimmage will be on Nov. 27, and the regular season will begin at the Paola Tournament on Dec. 3.