BSHS

grad plans future as musician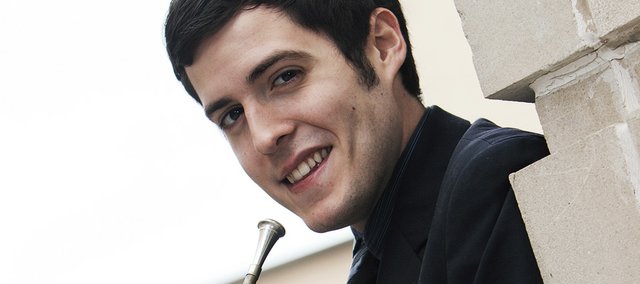 A Bonner Springs High School graduate is preparing to take another big step toward his goal of becoming a professional musician.
On Thursday, Michael Cooper will perform a French horn recital, completing one of the last major requirements before graduating from Kansas University with bachelor's degrees in both voice and French horn performance. The 2008 BSHS grad, who gave a recital for his voice performance degree last month, now plans to move on to graduate school to perfect his knowledge of the instrument he has played for 13 years.
A couple of years ago, Cooper wasn't sure which of his double majors he would pursue as a career. His success with the horn in the last two years helped make his final decision.
"I started just standing out more, I guess, with that; I was getting into good festivals in the summer," he said. "I kind of always saw myself as a horn player."
He wasn't so sure in May 2010, when he came back to Bonner Springs to perform a recital at the First Christian Church to garner hometown support after being accepted to sing with the Janiec Opera Company in the Brevard Summer Institute in Brevard, N.C.
Then in the summer of 2011, he performed as principal horn in the Hot Springs Summer Festival orchestra. Later that summer, Cooper performed in the Eutiner Festspiele opera orchestra in Eutin, Germany.
In late 2011, he was named the Kansas winner of the Music Teachers National Association's Young Artist Brass Competition, and he then received third place in the national finals of the same competition.
Cooper again performed as principal horn this summer in the Texas Festival Orchestra at the Round Top Music Festival.
"I got to study with some really amazing teachers," he said. "That's the sort of thing that made me decide, because I went to those extreme competitive environments and really enjoyed it and did well, which gave me the confidence to choose the horn."
Pursuing a double-major is not common for music students — Cooper said he knew of just three or four other KU music students who had a double major. He said he has been "crazy busy" finishing up his degree requirements but has already visited some of the seven graduate schools where he is applying.
Becoming a professional musician with only a bachelor's degree is rare, he said, which is why most move on to obtain a master's degree.
"It's really just to get as good as you can at your instrument before you try to find a job," he said.
The next step for Cooper is seeing if the schools he applied to invite him to audition, but he likely won't know until April if the schools where he auditions have accepted him.
Beyond graduate school, Cooper said he might one day become a professor, but first he would like to perform, saying he would be happy if he could get a stable, well-paying job as a horn player in an orchestra in a semi-major city. He said this could be with a symphony, ballet, opera or studio orchestra.
"A warmer climate would be awesome," he said. "Even in a different country — actually, that would be pretty amazing."