Lift off:
BLHS

powerlifters get to work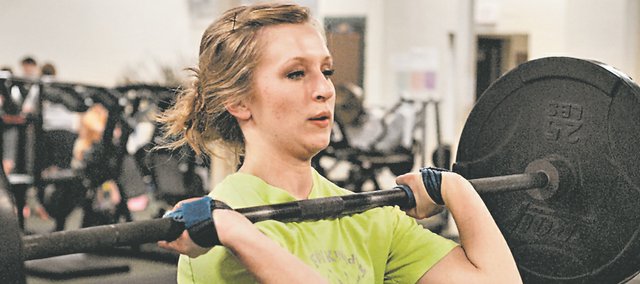 Classes dismiss each day at Basehor-Linwood High at 2:45 p.m., after which time a stream of students file into the strength and conditioning facility outside the school, for powerlifting coach Ross Schwisow expects them to be ready well ahead of his team's practice time of 3 p.m.
Championships aren't defended with tardiness.
The five-time defending state champion girls and three-time defending champion boys returned to work this week, less than two months ahead of the regular season's first meet.
Schwisow said nearly 190 students showed up for the first two days of strength and conditioning, what he considers both preparation for the Bobcats' four-meet varsity season and an extension of the school's offseason conditioning program.
It's a number Schwisow expects will likely drop to around 45 shortly after the first week. Of the lifters who do stick around and compete on varsity, ample opportunities to lead exist.
Schwisow said the Bobcats graduated 50 of the girls team's 105 points from March's state meet. Meanwhile, the boys graduated 68 of their 104 points.
"Half of our success from last year is gone," Schwisow said. "Who's going to step up now and take the next one?"
A byproduct of steady summer and winter turnouts and consecutive state team titles is that Schwisow doesn't have to wonder if enough upperclassmen will step up but instead who among them will and when. Helping matters is that, in addition to assistant coach Tim Johnson, the Bobcats' four graduate assistants have each won state powerlifting titles: Cory Stephens, Travis Inlow, Derric Brannan and Zach Smith.
Seniors like Drew Potter and William Trout both said they spent their first several seasons on the team looking up to senior leaders while trying to best their scores in any number of events.
"At the same time," Trout said, "you want to help keep everybody else in line."
Meanwhile, the individual nature of powerlifting puts athletes in competition with themselves.
"You're competing versus yourself every week," Potter said. "You try to beat your old record from the year before."
The number of times the Bobcats will see outside competition before the March 9 state meet in Abilene will be few, spaced out into four varsity meets from Jan. 12 to Feb. 23, including the Feb. 9 Bobcat Invitational, in which more than 40 schools and 600 athletes annually attend. Senior Rachel Cook, whose small frame is balanced by an ebullient personality, won her parents over early after they expressed concerns that she'd swell into bodybuilder-esque proportions.
"Really it's just about being toned, being healthy and just pushing yourself," she said, adding that her parents became quick converts upon witnessing the competitiveness of the annual Bobcat Invitational.
Cook said chief among the first week of practice's goals was one of thing: being sore.
"That and getting rid of the people not willing to work," Cook said. "We want a team of people who's going to be hardworking, dedicated and sacrificing. And if you can't do that, then don't be on the team."
Cook returns after placing first at state in the bench press for two straight seasons. She'll be joined by senior Courtney Leive, who set a state record in the 175-pound hang clean last March in Abilene. BLHS' season begins Jan. 12 against McLouth. The Bobcats will also host their annual "lift-a-thon" at 4 p.m. on Dec. 17, a fundraiser event in which businesses can sponsor athletes and alumni visit to help judge events.
Schwisow and several of his seniors noted the increase in competition around the area. At the Bobcat Invitational the last three seasons, Topeka High has dealt the host team defeat. Closer to home, the effort of area schools like Piper, Tonganoxie and Mill Valley has not gone unnoticed. Though those schools may not yet have the hardware possessed by BLHS, Schwisow isn't writing them off as any less dedicated.
"We've got to keep putting in more," he said.
Those words may not comfort the scores of Bobcats struggling to scale the school's steps each morning after practice. Then again, to seniors like Cook, it may be music to their ears.