Student, city join to create dog park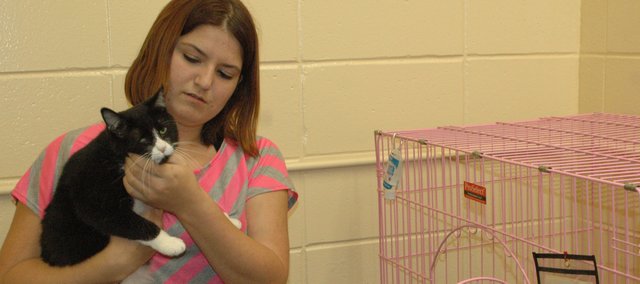 A local Girl Scout has a new mission for her Gold Award project: to create something that anyone in the city can enjoy.
Jenna Hammond, a sophomore at Bonner Springs High School, recently received approval from the city to create an off-leash dog park at Lions Park. Hammond is now beginning to raise funds for the effort, which she hopes to complete in a year but likely will expand as part of her senior project in 2014-2015.
The creation of the dog park will meet the requirements Hammond needs to earn her Gold Award, the highest award in Girl Scouts. Hammond's original project plan was to create an outdoor kennel and dog park area for Bonner Animal Rescue at its facility, but friends and family of the late Clayton McCulley asked to take over that project in his honor.
This left Hammond searching for a new project, and she found inspiration from her brother.
"He is special needs, and they are going to give him a service dog," she explained. "He was talking about how when he comes to visit me, he wanted somewhere to take his dog to play with it."
It didn't take long for Hammond to find support elsewhere in the community for an off-leash dog park in Bonner Springs. She went to the off-leash area at Shawnee Mission Park and found several people who lived in the Bonner Springs area, and when she put the question out to her Bonner Animal Rescue connections on Facebook, she received a lot of positive responses.
So she made a presentation to the Bonner Springs Recreation Commission, which approved of her idea, deciding to list it as a priority for the next two years. The commission supported the idea so much that, should Hammond be unable to meet fundraising goals, it set aside $6,000 for materials and construction of the park.
Hammond will work with the city to determine the best layout and design for the dog park, which will be on the east side of the creek in the southeast corner of Lions Park, an area that is not currently being utilized. The 50-yard by 40-yard area will be fenced with a 4-foot high fence. Hammond said she envisions the city using the park for dog training programs, and in the future, possibly as her senior project, she would like to create a drinking station, an obstacle course for the dogs and picnic tables for their owners.
The city will take on maintenance of the park once it is complete.
She may create a community contest to name the park, she said, but she hopes to dedicate it to her brother and her grandmother.
Hammond is seeking donations for the park and hopes to have a fundraiser at the Bonner Springs Community Center in late January.
But work on the fundraiser and park is awaiting approval as her Gold project from the Girl Scouts of Northeast Kansas and Northwest Missouri. In the meantime, Hammond is working on another charitable project: collecting items for a Girl Scout Troop on Staten Island affected by Hurricane Sandy, which she learned about through a pen pal living in New York. While she is accepting personal care items like water bottles and toothpaste, she also hopes to gather small toys and stuffed animals for children.
"Everyone is sending relief to them, but I thought maybe a Christmas since they probably won't get a Christmas," she said.
To contact Hammond with support for either the city dog park or her Hurricane Sandy item collection, email her at gscookiechick@yahoo.com.