Dropping back one more time: Jaynes enters Kansas Sports Hall of Fame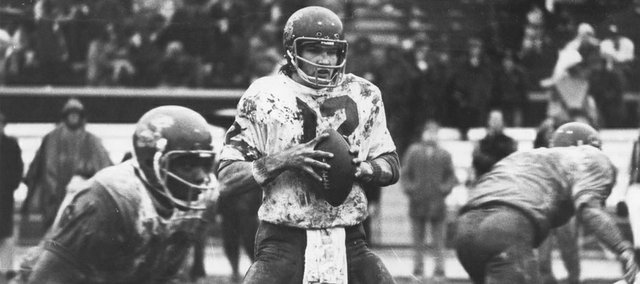 On Sunday in Wichita, David Jaynes will be inducted into the Kansas Sports Hall of Fame. So, a few months back, he picked up the phone to talk to a reporter about the honor.
This meant he had to talk about football again, about the 21-year-old college kid he used to be rather than, say, pilot his airplane or tend land on his Telluride, Colo. property — both he'd much rather be doing than talking about football again.
But before long David Jaynes is choked up, reliving one of the earliest, most pivotal memories he associates with the game. In the story he's telling, he's a 15-year-old Bonner Springs High sophomore again, years away from setting passing records at Kansas University, decades away from living happily and comfortably on the west coast.
"Hang on a second," he says, his voice cracking.
•••
He's in Monticello, N.Y. the summer after being inserted into the Braves' starting lineup as a sophomore. By this point, Jaynes is pretty serious about football, previously having grown up also playing baseball in Bonner Springs. On the third day of camp, director Hank Stram — yes, that Hank Stram — approached.
"Say, you throw that ball awfully well," Stram told Jaynes.
"Thank you," the boy said.
"Where are you from?"
"Bonner Springs, Kansas."
Stram returned a look of amazement.
"What are you doing here from Bonner Springs?"
"You're the director. And I want to get better."
The next day, inside the camp's mess hall, Stram towered over his seat at the head table. Jaynes was just settling into his own seat when he saw the coach's finger pointing his direction.
"No, you. Come here," Stram said after Jaynes did the classic lookaround.
"What do you do during the summer?" Stram asked Jaynes.
"I haul hay on a farm in Kansas," was the reply.
"Do you have to work?" Stram asked. "How about you come over and stay with the Chiefs during our summer camp?"
Hang on a second.
"Even today I get emotional about that," Jaynes now says over the phone. "Because that was really the event that moved me into their world for six weeks. I lived with the Chiefs. I threw to Otis (Taylor) during warm-ups … That just catapulted me into a totally different mentality about sports and whether you can accomplish something with them."
•••
Pretty soon, Bonner Springs junior quarterback Jordan Jackson will start hearing from college coaches, each pitching their programs in the ever-competitive college football recruiting landscape.
The full-court press put on Jaynes in 1970 is now the stuff of lore: Alabama football deities Bear Bryant and Joe Namath in a jet, with them a pen and a letter of intent.
Jaynes, enamored with the Crimson Tide's mystique, signed. Back then, however, a letter of intent bound student athletes only to conferences.
After it was brought to his attention that Bryant had also promised a Las Vegas passer that he'd be Alabama's "quarterback of the future," Jaynes reneged. The rest was history — more than a quarter century of it to be precise.
Jaynes would go on to leave KU as its most prolific passer and lead the 1973 Jayhawks to the Liberty Bowl.
Jaynes' 5,132 career passing yards remained a record for nearly a decade. His 34 touchdowns stood atop the books for 34 years.
The clinching factor in Jaynes opting out of playing for Bear Bryant and coming to Lawrence? In the 30 days leading up to National Signing Day, KU assistant coach Terry Donahue asked Jaynes to visit campus and attend the KU-Kansas State basketball game at Allen Fieldhouse.
"Allen Fieldhouse and everything around it grabbed hold of me," Jaynes said. "I changed my mind in two, three hours time."
•••
After his freshman season, Jaynes watched the coach for whom he committed to play leave for UCLA. In his place was Don Fambrough, a man about whom Jaynes knew very little.
Jaynes stuck around, a choice that paid off when, before the start of his junior season, Fambrough looked at Jaynes and said, "You're my quarterback."
"That gave me quite a bit of confidence," he said. "He believed in me."
From the day Fambrough pegged Jaynes as his starter until the coach died in 2011, Jaynes said the two never really talked football.
"He just looked at the big picture," Jaynes said. "He reached out and gave me the confidence to play better, and after he left KU he and I became better friends. Still, we never talked about football."
So when mention of Jaynes' career was invoked during Todd Reesing's resetting of KU passing records from 2007 to 2009, Jaynes did little of the talking.
It's a philosophy he follows today in the life he shares with his wife, Barbara, flying between homes, living a different life.
"Some people who played 40 years ago still talk about and remind you of that fact," Jaynes said. "I'm just not there anymore. There are other things I'm doing in my life."
•••
Jaynes' professional football career did not transpire as he had hoped. He played just one season with the Chiefs, who picked him in the 1973 National Football League Draft's third round, before being traded to Atlanta and bouncing around the league for a few short years.
"My pro career was a moment," Jaynes said.
Transitioning into what he calls the "real world," wasn't any easier. Not until 1981 when Jaynes took a real estate job in San Francisco did he bridge that gap. Out there, he enjoyed relative anonymity for the first time.
"It was a perfect time to get on with it and leave everything behind," Jaynes said.
Jaynes, 59, has remained in the real estate business and, five years ago, picked up flying as a hobby. He bought an airplane and, before he knew, was learning to fly. Today, David and Barbara take his twin engine jet from Los Angeles to Dallas to Indianapolis and Colorado.
"Put it this way, I think she trusts me a lot to get in the airplane and fly with me," Jaynes said of his wife, whom he met in 2001 on a blind date.
•••
When Jaynes is inducted into the Kansas Sports Hall of Fame, nostalgia will be inescapable. He'll be asked about the KU-Mizzou game in 1973, in which he led a Jayhawks rally. He'll be asked about what it was like to be courted by Bear Bryant, play for Don Fambrough, get drafted in the NFL. Maybe someone will even bring up the football stadium at his old high school that now bears his name.
"He kind of put us on the map," said Jim Finley, former Bonner Springs Chieftain sports editor. "He was a good leader. The kids loved him, so he made a big impression on the youth in Bonner."
Jaynes says he'll enjoy and appreciate the honor and recognition. He really will.
"But they're really honoring a person that was 40 years ago," Jaynes says. "I'm just not that guy anymore. Certainly I'm not the person to sit around and just focus on that football career and what happened then. People still want me to be the 21-year-old guy."
He continues: "We kind of want everyone to remain the same person they were when we knew them. That's just not how it works. Hopefully, people change and grow and see things differently."
The 21-year-old David Jaynes will be permanently enshrined in his home state's hall of fame this weekend. Afterward, today's David Jaynes will be on a plane pointed west.