Quilter competes for national title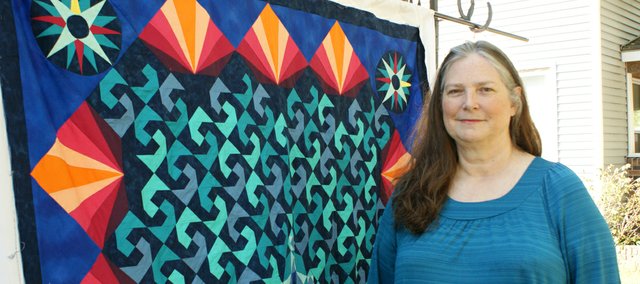 Judy Masur of Linwood has reached the final round of a national professional quilt design competition.
That's particularly surprising for her, as she isn't a full-time designer like many of her competitors, she said.
Masur started in a field of 30 for McCall's Quilt Design Star after submitting her first entry, which was a quilt she had already made. The next three entries for the competition were challenges issued to the competitors with certain regulations.
The first challenge was to build an entire quilt top around a specific pattern, the Storm at Sea block, and it had to be completed within a month. Masur created a hurricane-like design that resembles a stormy sea and is accented by compass roses, a traditional symbol of maritime navigation.
"My quilts always have a deeper meaning," Masur said.
Her design moved her onto the second challenge, which was to design and construct a quilt top using a yard of fabric supplied by the contest. She built an underwater scene, inspired by a poem she wrote for her 4-month-old granddaughter, Atleigh Masur.
Her final challenge was to incorporate the theme "Opposites Attract," to which she responded with a quilted portrait of her grandfather meeting his great-granddaughter, Masur's daughter Destiny Crider, for the first time. She titled it "Love of the Ages," showing the relationship between young and old, she said.
With only nine competitors left in the final round of competition, online voting will decide the final outcome. Whether she wins or not, Masur said, she's so pleased with the outcome of her final quilt that the competition has been worth the work.
"I really did this to get more comfortable getting my work out in front of people," she said. "I was introverted about it before."
To see all of Masur's entries and learn more about here quilting, visit the McCall's Quilt Design Star website. You can vote for here quilt here.