Bragging rights retained: Bobcats run over Braves, 35-11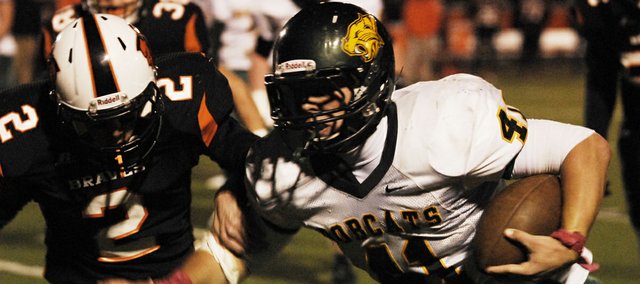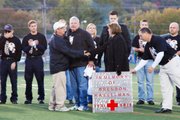 Photo Gallery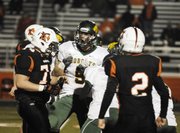 Oct. 5: BLHS 35, BSHS 11
The Bobcats maintained bragging rights with a 35-11 victory at Bonner Springs on Friday, Oct. 5. Basehor-Linwood reeled off 27 unanswered points to put away the Braves, who turned the ball over four times. Both teams are now 3-3 entering district play.
Kasselman fundraiser a success
The Brendon Kasselman Scholarship fundraiser totaled more than $5,000 in donations on Friday between the sale of 466 T-shirts and money raised by the Bonner Springs football team, the YMCA, KCB Bank and the city's fire department.
Bonner Springs had just taken an 11-8 lead against Basehor-Linwood late in the first half on Friday, a half in which both teams opened with run-heavy scoring drives and both coaches exploded off the sidelines to whoop and slap hands with players.
In what seemed poised to be a hotly contested rivalry game, BSHS junior Jordan Jackson lined up behind center with less than a minute to play until taking a narrow lead into halftime.
But then Ben Johnson happened.
The 6-foot-6 BLHS senior defensive end/tight end deflected a Jackson pass that popped into the hands of BSHS senior lineman Tyler Howell, who fumbled away to BLHS junior Jake Phillips in the end zone to give the Bobcats a lead they wouldn't relinquish.
"Boy that made a difference," BLHS coach Steve Hopkins said.
Everything Hopkins said his team would do this season ¬– peak by district play, run right at you, be aggressive on defense — came to fruition as the Bobcats extended their winning streak against their rivals with a 35-11 victory to even both teams' records at 3-3.
BLHS senior Drew Potter finished with 202 yards on 31 carries and four touchdowns — including three in the fourth quarter — to lead Friday's attack. Potter carved out a presence on the ground early with an eight-carry, 44-yard opening scoring drive.
"Let's be a physical, violent football team," Hopkins told his team this week, a message he said intended for his defense as well. Junior Cory McCleary led the Bobcats with 19 tackles, followed by 13 from junior Jake Phillips and 11 from senior Tanner Garver
The victory evened the Bobcats' record entering district play, while the Braves dropped their third-straight game of the season. Also on Friday, Basehor-Linwood recovered a fumbled punt attempt, and Garver and senior Dustin Williams combined to give Jackson his first career two-interception game.
"Turnovers man," BSHS coach Lucas Aslin said. "The tip touchdown before halftime, that hurts going in."
A five-yard Jackson touchdown run and a 23-yard field goal by Jason VanMaren — both in the first half — accounted for all of the Braves' scoring on Friday. Bonner Springs senior Matt Call appeared to run in a touchdown off an interception of BLHS quarterback Zac Hevel when an illegal block brought the score back.
Besides creating a slew of turnovers, the Bobcats' commitment to a grueling ground game further limited the Braves' offense from having enough time to mount any comeback.
"They're good because they minimize your possessions to where you're not going to get any time," Aslin said. "Every time they get a first down, you've got to chalk up three to four minutes to it because they're going to grind at you."
When the Braves were on the field, junior Jared Knershield resumed his role as the lead tailback. Knershield's return from injury alleviated Jackson, who carried the load both running and passing in Knershield's absence. On the Braves' first drive alone, punctuated by VanMaren's field goal, Knershield carried nine times.
"We just didn't execute, man," Aslin said. "We had plays there. We could have easily scored 45 points but didn't execute at a high level."
Bonner Springs couldn't get back on the board, however, after halftime as the Bobcats outscored the home team 21-0, all points coming in the fourth quarter.
The mood in Basehor-Linwood's post-game huddle was light and celebratory, yet focused. Jokes were tossed around about Williams coming up with a late interception and Hopkins shouted and danced in the eye of the huddle. But the same seniors who piped up after last week's 28-22 loss to Turner kept the Bobcats focused on Oct. 12's district opener at Jefferson West.
Bonner Springs returns to the road to open district play at De Soto next week and will try to take at least two of three against the Wildcats, St. James Academy and Spring Hill — all teams the Braves have not played. St. James Academy (6-0) is one of just three undefeated teams in the state after a 17-14 victory at Eudora on Friday.