Braves repeat as Wyandotte County champs before league loss at Mill Valley on Tuesday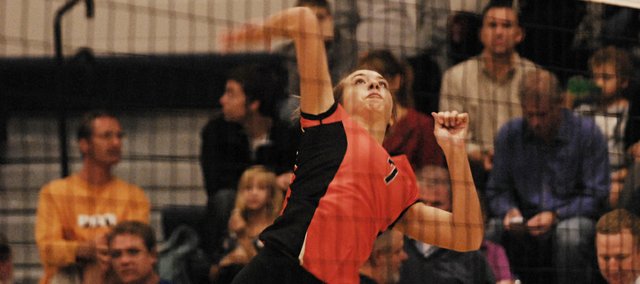 When Bonner Springs met Bishop Ward in the final of Saturday's Wyandotte County volleyball tournament, it wasn't about to let this one go the distance.
Not after the Cyclones spoiled the Braves' senior night just four days earlier in a five-set heartbreaker, each set decided by just more than three points each.
This second time around, Bonner Springs needed just two sets to get past Bishop Ward (25-22, 25-20) and repeat its tournament victory from a year ago.
"To come out and finish with a two-game victory over them was really big for us," Bonner Springs coach Jan Madlock said. "And at the end of a tournament, too."
To earn that rematch, the Braves went through Turner (25-17, 22-25, 25-11), Wyandotte (25-11, 25-14), Sumner Academy (25-20, 25-21) and Piper (10-25, 25-19, 25-21).
"It was just good for everyone for us to win," senior Cassady Holloway said. "This season we've felt like we've been winning, but our record doesn't really show it. That just made it feel so much better."
What Bonner Springs' record will show is a young (two freshmen, three sophomores) 14-26 team that, since Sept. 25, has gone 8-2 after Tuesday's league loss at Mill Valley (19-25, 8-25, 14-25).
At Mill Valley's senior night, the Braves grabbed the attention of their league-leading, 21-4 hosts by jumping out to a 6-1 lead to force an early timeout. The Jaguars stormed back to tie, but the two sides kept it close with another tie at 12-12 after freshman Alazia Stanley and sophomore Mikaela Bennett teamed up on a block. Mill Valley went on a six-point run before the Braves pulled back to within three at 16-19. Facing defeat, freshman Julianne Jackson and senior Haley Hoffine joined in on a block, and Hoffine added a late kill, but the Jaguars were able to put it away at 25-19.
Mill Valley opened the second set with a 10-0 run, a deficit from which the Braves couldn't return. Bonner Springs fell behind early again in the third before rallying to within one at 8-9 after a pair of strong spikes by Hoffine. It would be the closest the Braves would be in the set as the Jaguars built separation with three straight points and never looked back.
Hoffine finished the night with seven kills and three total blocks, followed by four kills from senior Jene Williams and three from junior Mariah Seifert.
On Tuesday, Jackson led what Madlock called the Braves' strongest area against Mill Valley with 6.5 total blocks, five of which were solo stops.
"I thought our blocking was some of the best blocking that we've done," Madlock said.
Madlock called the loss a slight dip in an otherwise high point of the season. She's come to expect contributions from a number players. On Saturday, Madlock said, it was Seifert who put together her most consistent effort of the season.
"She really shined through and it really gave us a threat a little bit more than we've been in the past," Madlock said.
In the final against Ward, sophomore Shelby Taylor helped lead a rally out of a timeout that the Braves would turn into a trophy.
Four Braves repeated as Wyandotte County Tournament champions, three of whom are in their final season. They're weeks away from leaving behind a team whose new nucleus is developing in the form of a young cast already making itself known.
"They've worked just as hard as we have," Holloway said of the Braves' underclassmen. "They know they have a lot to look forward to, and we just do what we can to help them grow."
Next up for the Braves will be a final league road match at Tonganoxie at 6 p.m. Tuesday in what will be Bonner Springs' final chance to improve its seed for sub-state play, also at Tonganoxie the following weekend.
"We want that game and to get the best seed that we can for regionals," Holloway said. "We know the teams in our regional and we have a chance at winning. that's pushing us because we know we have a chance at winning."