Three generations of service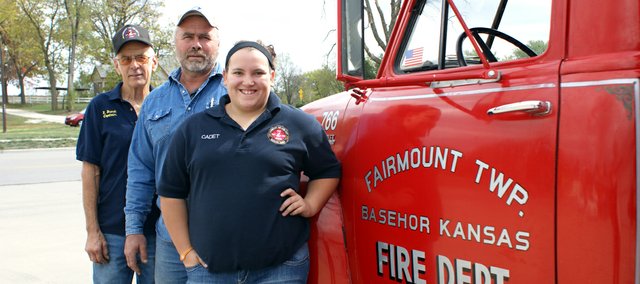 Firefighters will always watch their brothers' backs in a dangerous situation, but for three generations of Brandts that bond is a bit stronger.
Roger Brandt started volunteering for the Fairmount Township Fire Department in 1964. He had the time to help, and he enjoyed doing something good for the community, he said. He still goes on calls today, but they deal with more medical assists than actual fires.
In March, Lee Brandt, Roger's son, will celebrate 30 years at the department. He actually got involved long before becoming a firefighter, he said. When Roger got called out, 14-year-old Lee would hop on the truck, too.
Mallorie Belk, Roger's granddaughter and Lee's niece, was originally interested in law enforcement, but as a cadet with the department, she's now set her sights on studying fire science and emergency medical services.
"It runs in the family," she said.
Although Mallorie doesn't go out as a first responder, the family does occasionally answer calls together. Roger and Lee are happy they don't see huge fires as they used to, but they recall a difficult overnighter or two they've spent together while working.
They always keep an eye out for their colleagues, Roger said, but that's especially true when it's a son or granddaughter in the line of duty.
Although Mallorie has a little longer to become a full-fledged firefighter, Roger is sure she'll do well, he said. And he's proud to see his family's legacy of service carry on.