Braves, Bobcats runners at home in Wyandotte County Park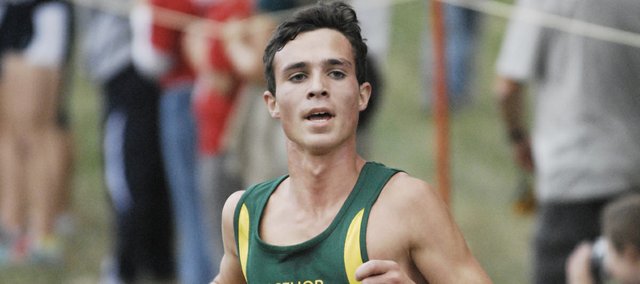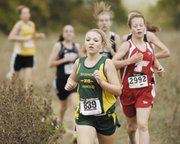 There's something of a turf war going on at Wyandotte County Park in Bonner Springs.
After Thursday's Kaw Valley League cross-country meet at the park, where the Oct. 20 4A regional meet will also be contested and where this week the Bobcats got the better of the Braves, both teams looked forward to hitting a familiar trail again.
"This is our course," Basehor-Linwood junior Rebecca Carroll said. "We've been running it since middle school. We just know it. We're ready to do it, and we have a little bit of an advantage."
So, it seems, would the Braves, who will also be competing in their fourth meet at Wyandotte County Park next week.
On Thursday, the Basehor-Linwood boys team topped Bonner Springs' boys by nine points, placing second to the Braves' third. Meanwhile, Basehor-Linwood's girls edged Bonner Springs by 22. Mill Valley won both races.
But with last year in mind, when the Bobcats bested Tonganoxie a week before the Chieftains edged the Bobcats the following week, Basehor-Linwood coach Jeff Venema knows much remains to be decided.
"They could just as easily beaten us by nine," Venema said. "We knew it was going to be close, and we knew the ultimate thing is far from settled. Winning today is better than losing today, but we've been here before."
Sophomore Quinnlyn Walcott led all Bobcats runners with a sixth-place finish after a time of 16:14. Carroll was the other medalist on the girls side for Basehor-Linwood, placing 20th with a time of 16:58.
Junior Austin Schuler led all Braves with a fifth-place performance after finishing with a time of 17:20. Behind Schuler was Basehor-Linwood's Luke McGowan in 11th place at 17:47. Bonner Springs sophomore Joe Casteel continued to impress his coach, Bill Downing, with a 13th-place finish, running a 17:48.
"The biggest surprise for a lot of people has probably been Joe Casteel," Downing said. "Back-to-back P.R.'s, and doing it in pretty strong fashion."
As for Schuler, it was business as usual. With Thursday's performance, the senior has medaled in every meet this season.
"We can always count on him to be there when we need him," Downing said.
In all, four Bobcats boys runners and three Braves boys runners medaled on Thursday. Juniors Mark Vitt (15th, 17:58) and Johnny Fulkerson (17th, 18:05), and sophomore Casey Jones (19th, 18:07) rounded out Basehor-Linwood's top 20 performers.
Bonner Springs senior T.J. Kimbrough-French ran his best time of the season in just his second race back after a foot injury shelved him for nearly a month. Kimbrough-French placed 16th with a time of 18:02.
Downing said Kimbrough-French, nursing a sore quadriceps muscle from rehabbing his legs ahead of next week's regional, should enter next week in good spirits ahead of a chance to make it three-straight state appearances.
"We're talking about a kid that's gone to state the last two years from one of the toughest regionals in the state," Downing said.
In each of the last two seasons, Kimbrough-French earned the final state qualifier, with an 18:12 in 2010 and a 17:38 in 2011.
"It's a little bit different this time because he's coming off that injury," Downing said. "But conditioning-wise he's ready to run fast."
For Bonner Springs girls runners, senior Mandy Ballou led the way with a time of 16:48, good for 18th.
They'll all do it again next week. Same place. Many of the same teams. And at least two of those teams will enter feeling like they have a stranglehold on the setting.
"We know the course," Downing said, echoing the Braves' rivals. "This isn't their first time out here. Most of them have even run in middle school here. They've known the course for quite a few years."
Soon, however, Downing added: "Basehor-Linwood's out here a lot, too."