Secretary of Labor tours
KCKCC
Secretary of Labor Hilda L. Solis recently visited Kansas City Kansas Community College to tour its Technical Education Centers.
On Thursday, Oct. 11, Solis toured the current Technical Education Center, 2220 N. 59th St., as well as the new center at 6535 State Ave.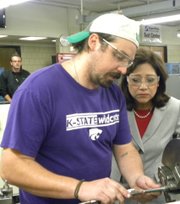 The school recently received $2,966,045 in grants through the Trade Adjustment Assistance Community College to Career Training initiative. The funding will help improve training for high-wage, high-skill occupations in industries such as construction; heating, ventilation and air conditioning; and advanced manufacturing through the Training for Employment program.
Solis told a gathering of approximately 50 business leaders, college staff and administrators and media that she hoped that in another year or two she will be able to return to find the new TEC filled and bustling with programs and activities.
The new facility, set to open in August 2013, will be named the Dr. Thomas R. Burke Technical Education Center in honor of the former college president whose vision led the purchase of the Wal-Mart complex and two empty car dealerships which now house the TEC's auto technical and collision repair programs.
The new Burke TEC, a $23 million project, will house more than 25 technical education programs.