Column: Tonight's district football openers forecasted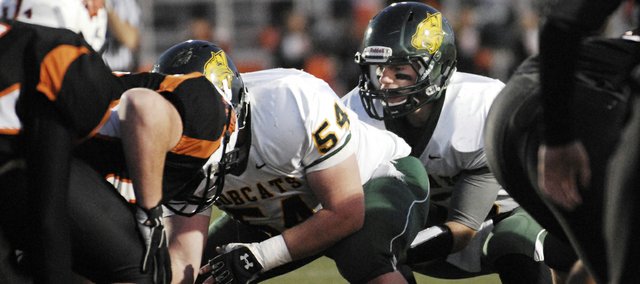 Photo Gallery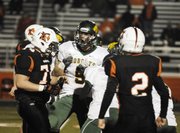 Oct. 5: BLHS 35, BSHS 11
The Bobcats maintained bragging rights with a 35-11 victory at Bonner Springs on Friday, Oct. 5. Basehor-Linwood reeled off 27 unanswered points to put away the Braves, who turned the ball over four times. Both teams are now 3-3 entering district play.
The path to state is paved and the journey begins Friday with road trips for both Basehor-Linwood and Bonner Springs to open district football play.
The Bobcats (3-3) will head to Jefferson West (3-3) while Bonner Springs (3-3) visits De Soto (2-4) in a pair of 7 p.m. road games.
District play opens with each area team in a different spot after Basehor-Linwood ran over Bonner Springs, 35-11, last week. The loss was Bonner Springs' third straight after starting the season 3-0. Meanwhile, in victory, everything came together for a Bobcats team that set out to emphasize the run and field an aggressive defense this year.
A victory at Jefferson West sets Basehor-Linwood up for a relatively easy path to advancing to sectionals. Entering Friday, the Bobcats' other district opponents — Perry-Lecompton and Tonganoxie — had 2-4 records. Jefferson West is coming off a 48-6 defeat to Holton last week.
Basehor-Linwood senior Drew Potter figures to compile considerable mileage in district play. When the Bobcats are successful offensively, it is when senior quarterbacks Tanner Garver and Zac Hevel hand off to Potter, who has carried 106 times for 767 yards and 12 scores this season. Potter's 31 carries for 202 yards and four touchdowns kept Bonner Springs' offense off the field and unable to answer last week.
When senior tight end Ben Johnson isn't leading the Bobcats' receiving corps (28 receptions for 461 yards and four touchdowns), he's coming up big on defense. Johnson tipped four passes last week at Bonner Springs, one of which led to a momentum-claiming touchdown by the Bobcats' defense.
It will be interesting to see what gives Friday: Jefferson West is 3-0 at home and the Bobcats are 2-1 on the road. Basehor-Linwood has established an ability to pile on more points per game (30) than the Tigers (17), and has outscored Jefferson West 18.4-12.3 in second-half play this season.
• Montemayor's prediction: Basehor-Linwood 28, Jefferson West 19
Since an instant-classic 29-23 overtime loss to Piper last month, Bonner Springs has struggled to field a consistent effort. The Braves hit the road after a two straight at home, although that may just be what they need. After outplaying Piper in every category but the final score, the Braves were outscored at home 84-23 by Mill Valley and Basehor-Linwood in consecutive weeks.
Junior running back Jordan Knershield's return to the starting lineup will make a huge difference for the Braves, who have had to rely perhaps a little too much on the arm and legs of junior quarterback Jordan Jackson.
Expect a low-scoring affair at De Soto Friday. Bonner Springs is scoring just a little more than 19 points per game, while the 2-4 Wildcats are posting just 222 yards of total offense and 13 points per game. If this indeed becomes a low-scoring, close game, that will play into the Braves' favor: kicker Jason Van Maren has connected on two field goals this season. That's two more than the Braves had all season. Trouble is, the Braves averaging less than four points per game in the fourth quarter this season. They may start hot at De Soto, but they'll need to finish to both win Friday's game and reestablish the confidence needed for a good showing against three district teams the Braves are seeing for the first time.
Do that and who knows what can happen. Just last night when 2-4 Spring Hill met surging 6-0 St. James — the other two teams in Bonner Springs' district — the Broncos upset the Thunder, 41-12.
• Montemayor's prediction: Bonner Springs 24, De Soto 15
Will you be at either game? If so, tweet updates, scores, photos and videos and use the hashtags #BasehorSports or #BonnerSports to be heard.