Aslin won't rule out changes as Braves face two must-win district games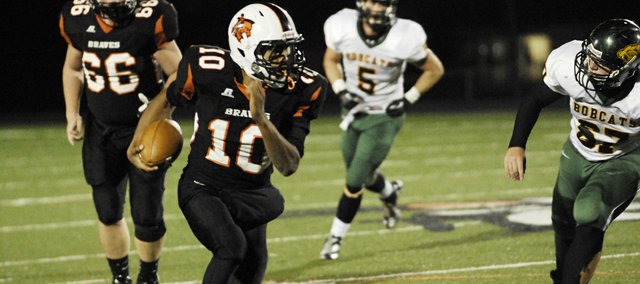 DE SOTO - De Soto — As the losses pile on for the Bonner Springs football team, the explanations get harder to accept.
The Braves started the season 3-0, but have since skidded to 3-4, shifting a once promising outlook into a deflating revelation.
"We are not executing," coach Lucas Aslin said. "It's as simple as I can paint it."
Aslin was short and to the point Friday after Bonner Springs lost to De Soto in its district opener, 16-6. All night there were plays to be made, gaps to fill. The offense stagnated to the point that it had to use a running back as an extra blocker while junior quarterback Jordan Jackson led the team with 21 carries for 101 yards.
Practice had been solid all week, so Aslin couldn't understand why nothing translated to the game. He thought it might be coming from his own end.
"It's all my fault," he said. "I take the blame. I don't know what else to tell you."
The Braves turned the ball over four times in the loss — one fumble and three interceptions — accounting for perhaps the biggest factor in the game. Granted, the circumstances for the interceptions were not ideal, but could have been avoided. One came right before the half when the Braves were driving; the other two came on somewhat manageable fourth-down plays.
Bonner Springs won three games against beatable opponents, then lost three against the cream of the Kaw Valley League crop: Piper, Mill Valley and Basehor-Linwood. This could have been a rebound game as De Soto came in with a 2-4 record. Instead, it puts the Braves in a predicament.
On one hand, with St. James Academy losing on Thursday, the Braves now hold a three-point victory margin over the Thunder, their next district opponent. It is enough to give a struggling team hope to latch onto.
"It's a lot of math now and you'd like to control your own destiny," Aslin said. "If you win two and you win by a good margin, you can still get that second seed in the playoffs. But if we play like that, we're not going to beat anybody."
The negative side to all this is that Aslin is tempted to make big changes, something to spur any kind of intensity and desperation. Friday's scoreboard keeps the variables open ended.
Bonner Springs' only score came in the third quarter on a six-yard Jackson pass to junior Jordan Knershield. Jackson completed 13-of-36 pass attempts for 138 yards, one touchdown and three interceptions. The passing game provided a spark when Jackson completed a 52-yard pass to senior Mason Roberts, but beyond that, no other pass went for more than 25 yards.
"We can put our JV team out there and score six points, so we might as well put in guys who can help you next year," Aslin said. "We've got guys that are hungry."
That should be enough to get some of the veteran players' attention. But resorting to this possibility could be an act of necessity, not a statement. The season is almost over and after these past four weeks, there should at least be signs of progression. Even in the rain, this offense if capable of more than six points.
"That's the hardest thing," Aslin said. "We have the guys to do it."