Jefferson West stifles Basehor-Linwood in district football opener, 13-8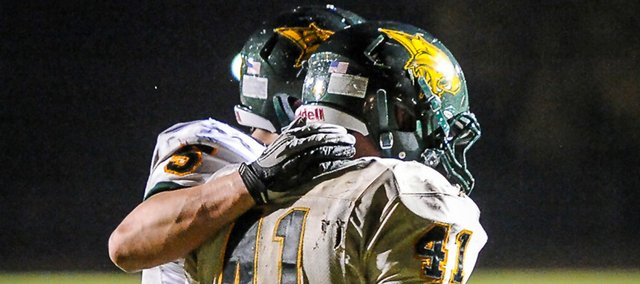 A fumble after what seemed poised to be a scoring drive with less than two minutes left in the game helped seal a 13-8 Basehor-Linwood loss at Jefferson West to open district play on Friday.
Senior Ben Johnson led the Bobcats with six catches for 116 yards, including a reception on fourth-and-16 to put the Bobcats, then down 13-6, in position to tie or go ahead. But the late, costly turnover proved the difference as Basehor-Linwood fell to 3-4.
Jefferson West quarterback Ian Mullins both ran in and threw touchdowns in the second quarter to give his team all it needed to hold on to victory.
"They moved the ball well on us," Basehor-Linwood coach Steve Hopkins said. "And our penalties and their good defense prevented us from scoring."
Basehor-Linwood senior Drew Potter scored his team's only touchdown with a one-yard run in the third quarter, but Jefferson West was able to limit the Bobcats' potent rushing attack to 106 yards on 31 attempts. Potter carried 18 times for 91 yards.
After recovering Basehor-Linwood's fumble, Jefferson West ran three plays from its own five-yard line before taking a safety that gave Basehor-Linwood just a few seconds to attempt a Hail Mary pass that wouldn't connect.
In the losing effort, senior Tanner Garver completed 8-of-13 passes for 118 yards, and picked up another 27 yards on the ground.
Juniors Cory McCleary (15) and Jake Phillips (12) led the defense in tackles, and Johnson, in at defensive end, was able to get to Jefferson West's quarterback for 2.5 sacks. Still, Jefferson West's 13 points would be all it needed to prevail on a night in which Basehor-Linwood's offense was held to its lowest output since a 47-6 loss at Mill Valley in September.
"We battled hard, and are not giving up — but we have to win the next two games and hope the point differential works out for us to make the playoffs," Hopkins said.
Basehor-Linwood (3-4) will next host Perry-Lecompton (3-4) at 7 p.m. on Friday, Oct. 19.