New owner for The Medicine Store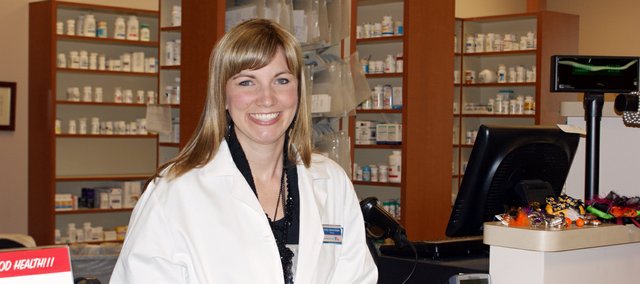 As a mother and her three young daughters leave The Medicine Store, pharmacist Holly Sebree-Gripka gives the eldest a playful tug on her pony tail and tells her to feel better soon.
"I love working with people," she said. "We're very service-oriented."
She knows her customers personally and takes time not only to explain their prescriptions, but also to see how the rest of their life is going, she said.
Gripka took ownership of the Basehor pharmacy in early August after owner Gary Holst decided to sell.
"I love my job here," she said. "I love the community."
Gripka grew up in Basehor, and she worked at Holst's pharmacy in Tonganoxie while she attended school, so the transition from pharmacist to owner was easy, she said.
She's been the pharmacist at the Basehor location since it opened in 2008, so many customers may not have noticed the change. She'll continue to focus on providing her customers the best service possible, she said, but she's made a couple of changes to the shop, too.
She dropped the prices of over-the-counter medicines to offer more convenience and expanded the gift and greeting card collection. As always, the pharmacy offers flu, pneumonia and shingles shots, she said, as well as drive-through service and free delivery.
"It's been a good pharmacy from the beginning," Gripka said, and she's happy she can carry it on for her customers.
The Medicine Store will have an open house and health fair from 9 a.m. to 6 p.m. Friday, Oct., 26 and 10 a.m. to 1 p.m. Saturday, Oct. 27. There will be refreshments and giveaways, and Sunshine Home Health Care will be on site to offer health information. For more information about the open house or The Medicine Store, call 913-724-3666.