Bobcats carry 2-1 victory against Maur Hill into Thursday's senior night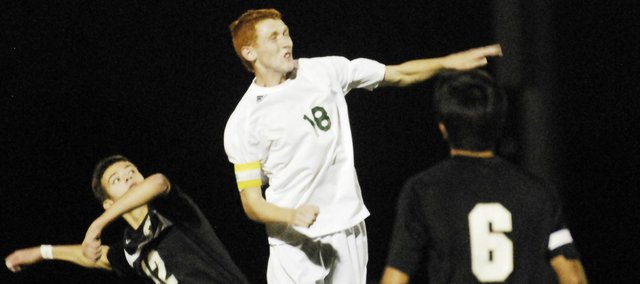 If playing on turf inside its school's stadium for the first time wasn't already enough, the Basehor-Linwood boys soccer team has more planned for Thursday's senior night match against Bonner Springs.
Namely some unfinished business for senior Lane Young, who tore a knee ligament in the season's first match to end his senior campaign prematurely. Bobcats coach Austin Knipp said he would like Young to take the first kick of the match before subbing out for the final time at home on a night in which a lot comes full circle for Knipp and his 12 seniors.
"All of these seniors are players that I had when first started here as a JV coach," Knipp said. "It's going to be emotional for all of us."
Perhaps emotional enough as to worry Knipp that his team may drain itself early in the excitement. After all, the pregame ceremony will give way to a match contested by an already fast-paced team on a surface that promotes rapidity.
In the Braves (0-12-2), the Bobcats host a rival that has struggled all season to overcome close matches while struggling against stronger teams. Meanwhile, Basehor-Linwood (7-8) has won three of four — including going 2-1 in its three road matches last week — to suggest this year's seniors will have a chance to play a little longer once the regular season concludes Thursday.
On Tuesday, Basehor-Linwood held on to an early two-goal lead to defeat Maur Hill, 2-1, at home in a match in which Maur Hill received multiple red cards, including one issued to its coach.
A Maur Hill goal halved the Bobcats advantage just before halftime, but Basehor-Linwood held steady as its guests struggled to regain composure. The result: another victory and a teachable moment for Knipp's squad.
"Truthfully, not all of them have been there before, so I think it's a testament to their heart," Knipp said of his upperclassmen. "The thing about the tams I have had all three years I've been here is that they never stop playing until the final whistle. You can definitely tell that with this class. Even though we may not have the most skilled players, we have the players that work hard and do what it takes."
Senior Caleb Wilson notched Basehor-Linwood's first goal with 19:30 to play in the first half, converting an assist by senior Gage Zumbrunn.
Seven minutes later, senior Sammy Seaton found senior Trey Kincheloe for what would become the game-winner.
Maur Hill answered just before halftime and tested the Bobcats' cool with its second-half approach, but Basehor-Linwood didn't let emotions get in the way of a crucial late-season victory.
"We just kept our heads up," sophomore Zach Ferguson said. "It wasn't our best game, but it wasn't our worst. We know we can't make stupid fouls and cause our team to lose."
Junior varsity will kick off Thursday's play at 5 p.m. Varsity senior night festivities are slated to begin at 6 p.m., with the match to follow at 6:30 p.m.