Bonner Springs volleyball stays hot with win at Tonganoxie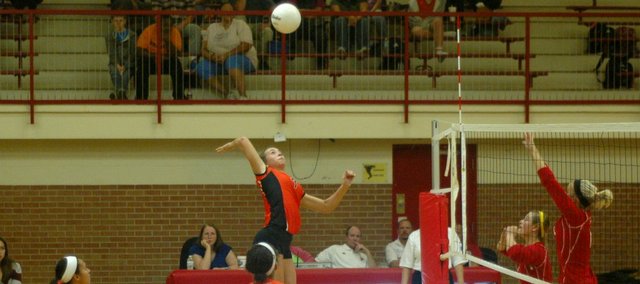 Tonganoxie — As far as win-loss records go, Bonner Springs likely won't turn any heads when it enters Saturday's Class 4A sub-state tournament. However, if winning matches late in the season means anything, the Braves' 2012 campaign could be far from over.
BSHS picked up its ninth win in 11 matches Tuesday with a five-set victory at Kaw Valley League foe Tonganoxie. Coach Jan Madlock's squad had its back against the wall after three sets, but took the final two to secure the win, 21-25, 25-21, 16-25, 25-22, 15-9.
"My girls work hard every day in practice," Madlock said. "They do everything I ask them to do. We're getting better at executing and it's been a lot of fun to work with them and see their improvement. They come to the gym ready to work hard every day."
The match got off to an unfavorable start when Tonganoxie (16-17) grabbed an 11-2 lead in the first set. Bonner Springs (15-19) battled back and got within two late in the set, but the Chieftains didn't relinquish the lead. The Braves had an answer in the second set, though, as they used a late 8-2 run to break open a back-and-forth affair and even the match at one set apiece.
THS scored four of the first five points in the third set and gradually pulled away to put Bonner Springs on the brink of defeat, but once again, the Braves responded. They used an 8-2 run to erase a late deficit in the fourth set and held on to send the match to five.
After falling behind by three points early in the fifth set, BSHS went on a decisive 6-1 run and never gave up the lead.
"They don't give up," Madlock said of her players. "I'm on their tails every day in practice, so I can bark at them in a match and they know it's meant to motivate. They're just going to work hard. They have a lot of heart and I'm just so proud of them for being able to come through some of those rough patches."
The Braves will return to the THS gym on Saturday for sub-state action. In addition to the Chieftains, the eight-team field includes Basehor-Linwood, Bishop Ward, Piper, Eudora, De Soto and Sumner Academy.
Tournament action will begin at 2 p.m. The Braves were awarded a No. 7 seed and will open the tournament against No. 2 Sumner Academy (17-16).
"We talked a lot about (Tuesday) being important. We got a feel for their gym again," Madlock said. "We've got some work to do in the next three days because we know our seed isn't going to be a top seed."