Candidates square off at local forum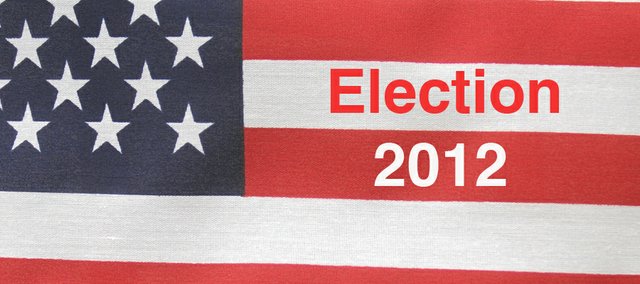 Candidates running for national and state races addressed topics ranging from health care to attracting votes from independent voters at a candidate forum Saturday in Basehor.
The forum featured Republican incumbent Lynn Jenkins, Democratic challenger Tobias Schlingensiepen and Libertarian challenger Dennis Hawver in the 2nd District congressional race. Candidates in the 38th House District race, Republican Willie Dove and Democrat Pete Henderson, and candidates in the 3rd Senate District race, Democratic incumbent Tom Holland and Republican challenger Anthony Brown, also squared off at the forum. Brown currently serves as a state representative from Eudora.
Basehor Community Library director Diana Weaver posed questions to candidates during the forum, which took place at Basehor VFW Hall.
The first question posed to 2nd District congressional candidates — how they would provide health care to someone who does not have health care — triggered three different responses.
Hawver said it was the responsibility of Americans to make arrangements for health care, while Jenkins said she would work to repeal and replace the Affordable Health Care Act.
"No one I know is advocating the status quo," Jenkins said. "We can't afford the president's health care law."
Schlingensiepen pointed to benefits of the law, such as people not being denied care because of pre-existing conditions and younger Americans staying on their parents' plans until the age of 26.
"It's deplorable for such an industrialized nation we do not have health care for all Americans," Schlingensiepen said.
Asked about how they would promote fiscal responsibility, Schlingensiepen said his first focus would be getting the economy going. He said he did not favor radical cuts "if Congress continues to go in gridlock mode."
"You don't chop steak with a chain saw," Schlingensiepen said. "You have to look at everything carefully."
Jenkins said Democrats have not made an effort to reign in spending. She said the tax code needed to be reformed and loopholes eliminated.
Hawver also voiced concerns with the tax code, saying that the United States had the "most business-hostile tax code and regulation code of any country on the planet."
State races
Brown, Holland, Dove and Henderson took to the candidates' table after the 2nd District candidates.
With the sales tax rate scheduled to be reduced next year from 6.3 to 5.7, candidates were asked whether they would consider a sales tax increase.
Brown said he wouldn't favor an increase, calling the sales tax "the most regressive tax there is."
Holland said he wouldn't favor a tax increase, but was critical of Gov. Sam Brownback's tax cuts. Brownback is not ruling out keeping the sales tax at 6.3 percent to balance the budget. Brownback said last week he anticipated state revenues dropping temporarily due to income tax cuts he signed into law earlier this year.
"They're being fiscally ridiculous," Holland said.
Dove said he has signed a pledge to not increase taxes and will stick to that promise. Henderson said such a pledge limits Dove's ability "to give solutions to the problems we face."
Discussion switched from taxes to how the candidates would be a viable choice for an independent voter.
Brown said he's relatively independent and that "he doesn't like to be told what to do." He said he had no problem breaking from his party on certain issues.
Holland said he looks at issues through the eyes of the best interest of constituents and has gone against his party at times.
Dove said he prides himself on being an independent thinker.
"I don't believe in going along just to go along," he said.
Henderson, meanwhile, said he hasn't always voted Democrat. He said he voted for Gerald Ford for president and Bob Dole in a Senate race.
"I guess that makes me an independent," he said.
The Basehor Community Library and Basehor VFW co-sponsored the forum. They will have another forum, at 6:30 p.m. Tuesday, Oct. 23, for candidates running for Leavenworth County offices. That event will be at the library, 1400 158th St.