Bobcats volleyball downs Lansing on senior night for second place in
KVL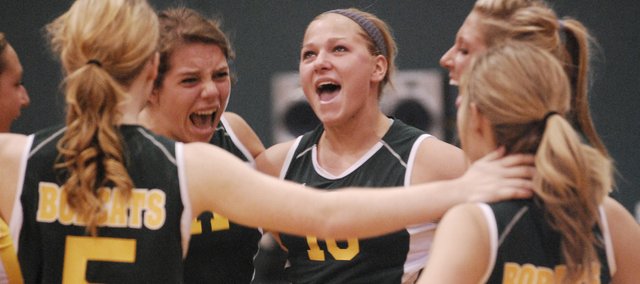 Photo Gallery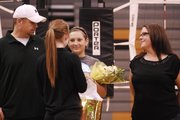 BLHS volleyball senior night
Four seniors were recognized on Tuesday, Oct. 16 before the Bobcats downed Lansing in four sets to secure second place in the Kaw Valley League.
The huddle grew a little louder after each Bobcats point against Lansing on Tuesday. Brandi Stahl jumped a little higher. Jamie Johnson raced to meet her teammates. Haley Waters dove a little harder to keep the ball in play. Samantha Rutherford came up with the well-timed kill.
For one more night, it all came together. The four seniors helped lead a Basehor-Linwood volleyball team to a four-set, senior night victory against Lansing (25-21, 17-25, 25-20, 25-17) to secure a second-place finish in the Kaw Valley League.
"We played the best we have ever played," Bobcats coach Amy Irvin said.
Stahl led Basehor-Linwood's attack with 22 kills, followed by Johnson with another dozen. Junior Hailey Robinson and freshman Courtney Robinson added 25 and 22 assists, respectively. And Waters and freshman Jaime Weible each added 13 digs.
The victory — before a roaring crowd of fans, family, area youth volleyball players and a Bobcats football team that dropped in to lead a cheer before heading outside for practice — avenged a previous loss to Lansing last month at the Lions' home tournament. Mill Valley, which went unbeaten in league play, helped set up Tuesday's second-place match with victories against both Basehor-Linwood and Lansing.
"Lansing is our biggest rival and you always want it, but my girls have never wanted this more," Irvin said. "We came out and gave our all each game."
The unmistakable tone of Tuesday's regular-season finale was set early as Irvin held back tears in reading aloud about her seniors while they gathered with their parents at mid-court. That emotion was then channeled into an unstoppable start to the first set, as the Bobcats took an early 14-8 lead and held on to overcome ties at 18-18 and 20-20. Abbey Mellies led the Bobcats with nine blocks on Tuesday, and both Waters and Hailey Robinson added a pair of aces. Robinson also recorded nine digs.
"Abbey Mellies was a huge force at the net," Irvin said. "She was like a wall."
The Bobcats (17-19) also made it two-for-two in consecutive nights, having defeated Turner in straight sets to start the week (25-21, 25-7). Monday, however, had nothing on Tuesday's result.
"Each and every girl played their hearts out," Irvin said. "I have told them all season that that is all I ask for."
Irvin said that tears continued to drop between sets and during timeouts as the end drew near. Perhaps then it's fitting that Stahl, whom Irvin called "one of the strongest players to come through Basehor-Linwood," took over in the decisive fourth frame.
Before the match, in her closing remarks, Irvin thanked the seniors for her first two years as head coach. Now, she posited, how to cap off a great second year?
"A bus ride to state," she said. Sub-state awaits on Saturday in Tonganoxie. Make it out, and the goodbyes can wait a little longer.
"I can't wait to see what the next few weeks hold for us."
The Bobcats, seeded No. 6, open sub-state on Saturday against No. 3 De Soto (18-17).
Stay tuned for more photos from senior night, and pick up the Oct. 18 issue of The Sentinel.