Council will revisit sewer connection fees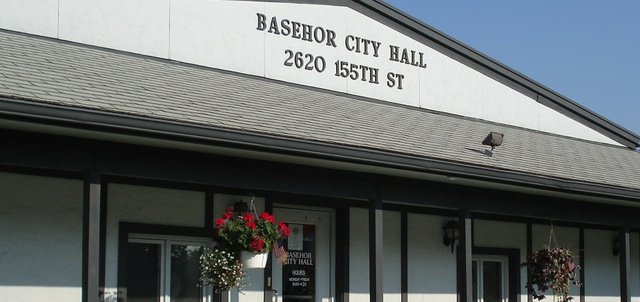 The Basehor City Council will revisit the issue of updating sewer connection fees after discussion at its Monday night meeting.
Council members are weighing the benefits of a separate fee to attract businesses, while not forcing residents to foot the bill of future infrastructure upgrades or new construction. The current ordinance charges $3,450 per unit connection with no considerations for commercial, industrial or multi-unit structures, such as apartments or hotels.
At the Oct. 1 study session, council members reviewed an option that would allow any structure with more than four connections to be evaluated by a separate equation, charging by square footage of the building. Under that equation, a 22-unit structure's connection fees would drop from $79,863 to $23,958.
Former council member Jim Washington appeared for public comment, calling the choice to lower commercial fees "crony capitalism" that would be an irresponsible forfeiture of city funds.
"We should not reduce it for commercial entities," he said, adding that the city hasn't done the appropriate economic and accounting analysis to make a decision.
Council members will discuss the issue further at their Nov. 5 study session.
In other business at the meeting, council members:
• Approved the purchase of a new vehicle for Police Chief Lloyd Martley. He was scheduled to receive a new vehicle in 2014, but because of extensive maintenance issues on the 1999 Crown Victoria the council approved an early purchase.
• Approved road repair projects at Bradfort Court and 153rd Street at the Cedar Lakes Subdivision, 160th Circle at the Gardens Subdivision, Wellington Place Drive at Wellington Place Subdivision, and the police department parking lot behind City Hall. Harbour construction has been contracted for about $320,000 to complete the repairs. City road crews will also work in the 160th Circle cul-de-sac to remove an island, which has posed maneuverability problems for large trucks. The city found the in-house estimate cheaper for the project rather than using the contractor.
• Agreed to enter into an agreement with Unified Government of Wyandotte to share the cost of a $75,000-repair to 142nd Street between Parallel Road and State Avenue, which is shared by both entities. Work on the 3,677-foot stretch of road will begin next spring.
• Finalized the employment ad for the city administrator search. Council members requested preferred experience and a salary range of $75,000-$100,000 be included in the ad. It has been posted on various online job sites, and Interim City Administrator Lloyd Martley said he expects a pool of applicants by mid-November.
• Requested to review a preliminary plan for the annexation process of the four lots abutting Briar Drive in the Briarwood Estates West Subdivision. The council will discuss the process during its next study session Monday, Nov. 5.
• Announced the opportunity for residents to learn more about the Wolf Creek Parkway project at an open house 5 p.m. to 7 p.m. Wednesday, Oct. 24, at Basehor Community Library.
• Addressed the ongoing concern of the lack of EMS presence in Basehor. Mayor David Breuer met last week with Patrick Hurley, county administrator, and Jamie Miller, EMS Director, to discuss response times and logistics of EMS service in Basehor. Breuer said Hurley and Miller are gathering more information for the council to review at a future work session.