Young's brief return creates a memory on
BLHS

boys soccer's senior night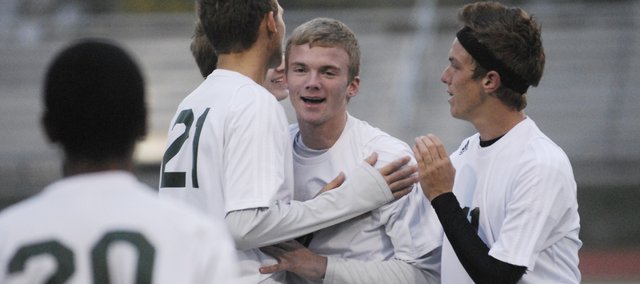 Photo Gallery
BLHS boys soccer senior night
On Thursday, the Basehor-Linwood boys soccer team battled Bonner Springs to a 0-0 draw during senior night. The Bobcats honored 11 seniors, including Lane Young, who returned to take the first kick after having had his season ended by an ACL tear in August.
BLHS seniors honored
The following seniors, most of whom have been in the program since Austin Knipp first began coaching at Basehor-Linwood, were honored before Thursday's game against Bonner Springs. The 11 Bobcats present — Mergen Meredov recently left the country on a scholarship — started the 0-0 tie.
• Matt Sixta
• Caleb Wilson
• Gage Zumbrunn
• Lane Young
• Dakota Snyder
• Dustin Denham
• Cameron Kennedy
• Trey Kincheloe
• Juho Luomajoki
• Mergen Meredov (out of country on scholarship)
• Sammy Seaton
• Jared Kenton
For the first time since an ACL tear ended his senior season just as it began, and for the last time ever, Basehor-Linwood senior Lane Young stood beside teammate Trey Kincheloe at midfield, nine other seniors at their backs.
Young returned to the field to take the first kick of Thursday's senior night match against Bonner Springs, the Bobcats playing for the first time on the turf inside the school's stadium and likely for the last time in front of a home crowd.
With one tap of the foot, Young — still wearing a large black brace on his right leg — turned a formality instantly forgotten in most soccer games into a moment.
"For him to be able to step on the field one last time tonight was one of the most special moments I've been a part of," Basehor-Linwood coach Austin Knipp said. "I know it was special for the seniors and the team as well."
Before the game, Knipp met with Bonner Springs coach Mike Moulin, who had no problem with Young stepping on the field one more time. Young tapped the ball to Kincheloe, who booted it out of bounds to allow Young to sub out.
"It was an act of class and sportsmanship that I'm very grateful for," Knipp said of Moulin's consent.
Young was met by smiling teammates as he exited the field, and Knipp draped an arm around his shoulder as the two walked back toward the bench.
The moment became a reward for Young being a constant presence at Bobcats games, pacing the sideline while wearing his letterman's jacket rather than sulking at home.
"I can't even begin to imagine how frustrating it would be to have to miss your senior season because of an injury, but I believe that Lane has handled it so well," Knipp said. "As a coach, it's hard for me to see someone who has worked so hard to be shorted his senior year when it means the most for him."
Back on the field Thursday, the Bobcats (7-8-1) and Braves (0-13-3) fought to a scoreless tie. Young's return to the field and the Bobcats' honoring of 11 seniors before the game would be one of the night's few warm moments as rain and wind gusts north of 25 mph battered players and spectators alike.
It didn't take long for both teams to realize that success wouldn't be found through the air. Balls sent upward traveled unpredictably. Even the best-intended shots bent at the last second and smacked off the yellow field goal posts behind the net.
Bonner Springs junior defender Austin Schuler came through with multiple clearance kicks to disrupt Bobcats attacks. And whenever Schuler was beat, junior goalkeeper Dominic Salvino came up with several key saves of his own.
Though its record may suggest otherwise, Bonner Springs took the field in resurgent form on Thursday. Moulin said that the return to form of previously injured juniors Colin Barker and Quinton Schneck and senior Spencer Frank has the Braves at their most competitive yet.
"Key guys like that can really make a difference," Moulin said. "They just grow each and every game and I'm hoping that we start peaking right now."
On the other end, Basehor-Linwood senior exchange student Juho Luomajoki helped preserve the stalemate, at times even taking off down the sideline for a run of his own in transition. The bulk of shot attempts came from Kincheloe and sophomore Zach Ferguson, but a trio of senior battled to come up with the storybook finish.
Kincheloe and fellow seniors Sammy Seaton and Gage Zumbrunn led an array of late chances in front of Bonner Springs' net. When extra time was needed, Ferguson returned to the fold, chipping a free kick from 15 yards out that bent on its descent to the goal but was pushed back just one yard. Had it been a football, it too would've been excruciatingly close, as it hit the uprights.
In position again to create something, Ferguson was stifled by Bonner Springs freshman Jacob Kraus, junior Mason Pachett and Schuler.
Playing on the turf was something for which Knipp said his seniors petitioned for some time. On Thursday, it became both an honor and a challenge, a changeup from the home field the Bobcats' have grown accustomed to just down the hill.
"It seemed like we were playing so far apart from each other that we weren't working with each other," Knipp said. "I don't know if that's because it's a turf field and is a little wider than the field down there. I kept stressing to them to work with each other and told wings to creep inside just to get more people in. I don't know, it was just weird."
Unfamiliar turf, despite a homefield advantage. Cold and wicked winds on, of all nights, senior night. Lane Young walking off the field one more time. Sometimes even the ugly nights have a way of being unforgettable.