Bobcats headed to Salina after sub-state championship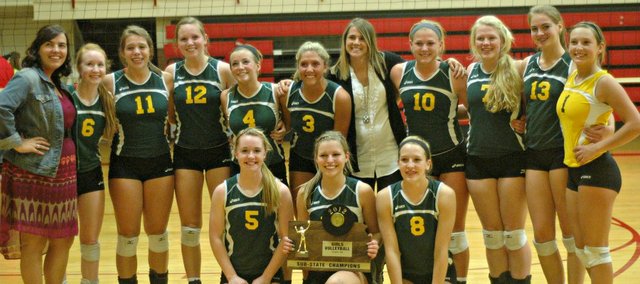 Tonganoxie — When Basehor-Linwood first looked at its spot in the Class 4A sub-state bracket, players must have forgotten to look at the number in front of their name.
The Bobcats, who took down Lansing last week to finish second in the Kaw Valley League, entered the eight-team tournament as the No. 6 seed, but didn't lose a set as they won three matches to punch their ticket to the state tournament.
"We were a six seed, which didn't mean anything because everybody was really within two or three wins and losses from each other," coach Amy Irvin said. "It was going to be the team that went out and fought the hardest."
Basehor-Linwood opened tournament play with a sweep of No. 3 De Soto 2-0 (25-20, 25-17).
The Bobcats (20-19) played their only match as the higher seed in the semifinals against No. 7 Bonner Springs.
The Braves upset No. 2 Sumner Academy in the first round, but proved no match for Irvin's squad, which win in straight sets, 25-13, 25-19.
The win set up a meeting with No. 5 Tonganoxie in the championship match. The Bobcats sprinted out to an 11-5 lead in the first set, forcing the Chieftains to play catch-up the rest of the way. Basehor-Linwood stayed in front the rest of the way and won the set, 25-18. Tonganoxie grabbed an 18-17 lead in the second set, but the Bobcats responded with a match-ending, 8-1 run to earn a spot in this week's state tournament in Salina.
"We had a huge game against Lansing (last week), and I told them 'if you go out and play like that, you will not lose a game,'" Irvin said. "After we won the first one, I just said 'I hate three games.' Whether you win or lose the first one or two, the third game is always tough."
The Bobcats enter the state tournament as the No. 8 seed and have been placed in a pool with No. 1 Chanute, No. 4 Rose Hill and No. 5 Louisburg. They will open against Chanute at 8:30 a.m. Friday at the Salina Bicentennial Center.
"We had a fun practice last Friday, very low-key, just to relieve some of the pressure," Irvin said. "But this week, we'll be back to business.