Two-point conversion fail ends Braves' playoff chances in overtime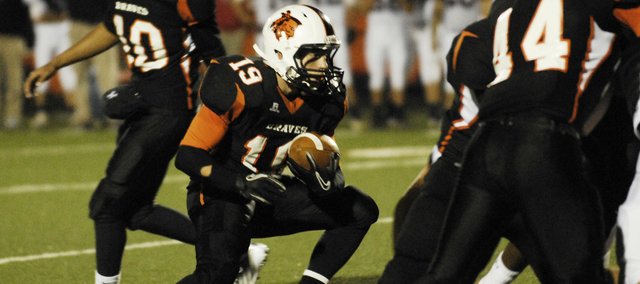 Bonner Springs coach Lucas Aslin knelt alone along the 45-yard line as he waited for his team's second overtime game this season to begin, this time with the season itself on the line.
The Braves had just come back to tie the game on a 1-yard run by junior Jared Knershield with less than a minute left in regulation against St. James Academy on Friday.
And, just a few minutes later, they had to battle back again, responding to a 5-yard quarterback keeper from St. James senior Jansen Keyes. Junior Jordan Jackson fired a third-down pass to senior Logan Terrell, who came up with his fourth and final big grab of the night.
Unlike at Piper, when the Braves fell inches short in a 29-23 overtime loss, Bonner Springs (3-5) found the end zone. This time, though, Aslin took a gamble.
Jackson handed off to senior Jonathan Blackwell in an attempt to win it with a two-point conversion, but Blackwell was stopped short of the line by a swarming Thunder defense.
St. James Academy 17, Bonner Springs 16.
"Hasn't been a year for close wins," Aslin said.
Aslin said he elected to go for the win after seeing how the Thunder's Wildcat formation featuring Keyes, King and Jake Bade wore down the Braves' defensive line.
"I felt like that was the right call for us," Aslin said. "I felt like we needed to end it there. Obviously, if you make the right call everybody thinks you're awesome. If you make the wrong call, everybody thinks you're an idiot."
Playoff hopes dashed, it didn't take Aslin long to summarize the Braves' season, which still has next week's senior night game against Spring Hill to play.
"Just close, man," he said. "We were close."
Jackson passed for 173 yards on 12-of-28 passing and carried just eight times for 60 yards.
Jackson engineered the Braves' tying drive late in the game, completing a 19-yard pass to Knershield, a 12-yard pass to sophomore Thaddeus Glenn and taking off for a 30-yard run on second-and-16.
"He's done well all year," Aslin said. "He hasn't been as accurate as my expectations are for him, but he battled and he's done a good job. You cant forget he's just a 16-year-old junior. Hopefully he grows from this year."
Blackwell's winning the starting tailback job in practice earlier in the week paved the way for a lighter load for Jackson. Blackwell led the Braves with 15 carries for 58 yards and caught four passes for 29 yards.
"He put pressure on Jared Knershield; we had competition in practice all week and he won the job," Aslin said. "He's doing a great job. We wanted to get him more touches than he did, but he got some touches there and did a really good job with it and played well."
Terrell led all receivers with four receptions for 60 yards, and had a second touchdown fall just out of reach in the end zone in the third quarter. On that drive, which ended with a 40-yard field goal from senior Jason Van Maren, Terrell caught a second-and-18 pass for 26 yards, dragging his toes to stay in bounds.
Earlier, St. James Academy junior Alex King kicked a 34-yard field goal with two seconds left in the first half to give his team a 3-0 lead at the half. In the third quarter, after VanMaren tied the game, Keyes scored his first of two quarterback keepers on a 3-yard run to put the Thunder (7-1) up 10-3.
Going for two wasn't Aslin's only gamble on Friday. Before the game, he shook up the Braves' lineup beyond elevating Blackwell on the depth chart. Seniors Dalen Reed and Joseph Arnett, and juniors Jack Klingele and Devin Burke made their debuts on the defensive line to allow offensive lineman previously playing both ways to focus on offense.
"We didn't really miss a beat from the bigger guys that supposedly are better," Aslin said. "It was a big game and we wanted to shake it up. We've been stagnant on some things and some of our guys have not played to what our expectations are and we needed to shake it up."
Asked to be a key contributor on his team's biggest night, Burke said he had enough on his plate so as to avoid being consumed by the enormity of his task.
"I just didn't pay attention to how big it was," Burke said. "I just focused on how I was supposed to play and do my job."