Braves eliminated from soccer regionals, but not before notching first victory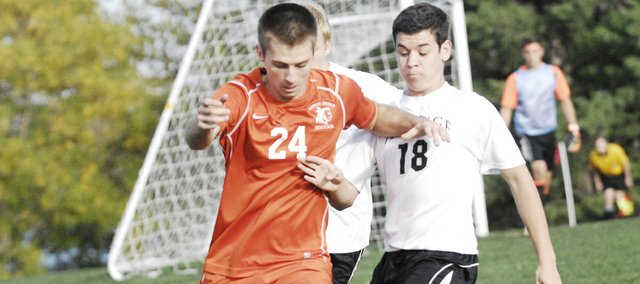 All the season, the ball bounced the other way for Bonner Springs boys soccer.
The Braves entered regional play winless at 0-13-3, victims of a slew of one-goal and overtime defeats.
Finally, senior Spencer Frank, recovered from a leg injury that kept him out of action for the better part of the first quarter of the season, reversed his team's fortunes in regional play.
Frank scored the game-winner in Monday's 1-0 overtime victory against Maranatha Christian Academy in Shawnee, ensuring the Braves would not end the season winless and doing so in the first round of regional play.
"We took shot after shot on goal," coach Mike Moulin said. "That's been our problem all year: finishing."
The victory sent Bonner Springs to Olathe on Tuesday to meet Heritage Christian Academy (14-2-1), the bracket's No. 1 seed. The Braves (1-14-3) played it close early, but fell victim to another afternoon of ill fortune.
Junior goalkeeper Dominic Salvino lost his footing while attempting a save on the game's first goal, and freshman Jacob Kraus was later called for a disputed foul to set up a penalty kick that sealed a 3-0 defeat.
"Overall, we controlled enough, we just couldn't attack the lower third," Moulin said. "That's where we struggle."
In Heritage Christian Academy, Moulin saw a senior-laden team with a marked knowledge for the game, something he hopes his own future senior-heavy Braves can develop into before next season.
"Hopefully next year we can put it all together," Moulin said.
Tuesday marked the final varsity games for seniors Dante Crider, Frank, Ryan Schuler, Nick Kerosec and Jason Van Maren. The Braves will welcome back at least 12 returning seniors next year.