Church creates Treehouse for new Sunday school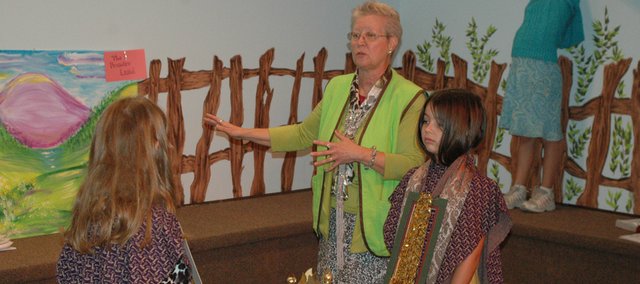 In a room marked "Shining Light Drama," a group of second-graders dressed as priests, soldiers, Israelites and Biblical figure Joshua march around a "wall" made from a shower curtain.
The wall is a symbol of the city of Jericho, and the youngsters whine a bit about reenacting the Biblical story of Joshua leading his Israelite army around the city's strong walls seven times, causing them to fall.
"If you think this is hard, imagine walking around the huge city with a group of thousands of Israelites," Rita Robertson, the group's workshop leader, tells them.
The theatrical reenactment is part of a new approach to Sunday School, called workshop rotation, for Elm Grove Baptist Church, 15774 Linwood Road, just west of Bonner Springs, in the revamped loft area of the church's new building.
The area has been designed not to look like your typical Sunday School, but rather a treehouse, and children move from one specially-designed workshop to another to learn each week's lesson in unique ways — it may be Skyping with a missionary in the Mouse Pad, drawing or painting in the Creation Station, or through a movie in the theater, which has actual movie theater seats.
"It beats the socks off filling out a worksheet," said Cheris Bass, co-leader of the church's Sunday School program.
The church hopes its elaborate treehouse will get children more involved in their Biblical learnings, as well as grow the congregations. The church has about 50 children in grades one through six, but about 70 children in its ages 0-5 nursery.
"We are exploding in our nursery, so we anticipate this exploding," Bass said. "What we have heard from other churches … (they) have experienced pretty substantial, quick growth with school-aged children when they've started something like this because it's just very enticing and engaging and someplace kids want to be.
"And if you want your kids at church, you want them to want to be there, not have to drag them."
Elm Grove, which draws its members from an area stretching from Lawrence to Kansas City, first decided to take on workshop rotation when visiting a Lee's Summit church using the system.
Bass said the system was appealing because it is based on Gardner's multiple intelligences, which can be found in most public schools, allowing them to address different styles of learning.
"My background is as an educator, so when I saw this at the other church, it was like, 'Oh, that is efficient, good learning,'" Bass said. "… Educationally, even if you put aside the Biblical piece of it, it is very, very timely and what current research in education would say is the best way for a child to learn."
Sunday School teachers were separated into two duties: a "shepherd" who stays with each grade group of children as they move from room to room on a five-week rotation, and five workshop directors, who teach the particular lesson for each room.
Once deciding to take it on, Bass said, the church members decided they needed to make it "the best thing ever." She said they were inspired by a children's area at that same Lee's Summit church, which was simply named the treehouse, given their church's name was based on trees.
So they decided to design the Sunday School area to look like children were climbing up into a treehouse, crossing a hallway painted to look like a swinging bridge before entering the treehouse — crafts room, science room, theater room, computer lab and movie theatre, all around a large children's worship area decorated with street signs and all sorts of knickknacks. A taxidermied Alaskan black bear, donated by a church member, greets children at the top of the main staircase.
Each of the workshop rooms is decorated with murals to make it look like children are looking out from the treehouse at the Kansas landscape.
"We're not the only people doing the workshop rotation model, but the wow factor of what we're doing it in is unique — it's atypical," Bass said.
The treehouse also is a secure area, with roaming supervisors at all time, and parents must check their child in at a computer station at one of two sets of stairs to the treehouse. The children are assigned numbers, and parents only may pick a child up if they have a copy of that number.
"Once they're up there, it's a very secure place," Bass said. "It's just a good place to feel like you can bring your kids and they can be safe."
But even with all the bells and whistles, at the root of it all, Bass said, the message of Sunday School remains the same.
"We're not changing what we teach; we're changing how we teach it, and there's everything right with that," she said.