County candidates face off at forum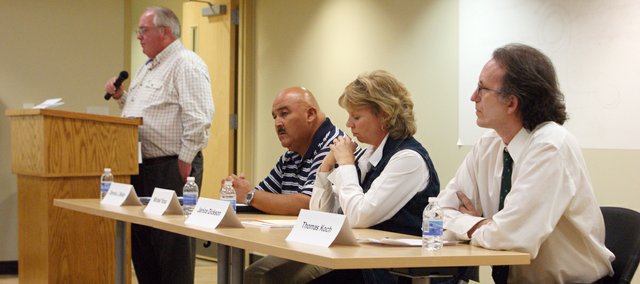 Candidates running for Leavenworth County offices discussed local issues at the Basehor Community Library's public forum Tuesday evening.
Candidates who attended were Republican County Attorney Todd Thompson and his Democratic challenger Pat Cahill, sheriff candidates Republican Andy Dedeke and Democrat Burdel Welsh, county commission District 3 candidates Republican Dennis Bixby and Democrat Mike Yanez, and county treasurer candidates Republican Janice Dickson and Democrat Thomas Koch.
Basehor Community Library director Diana Weaver served as moderator, using questions prepared in advance and posed by audience members.
County attorney
Thompson and Cahill kicked off the debate by responding to how they would encourage communication and cooperation between the county attorney's office and law enforcement agencies.
Cahill said he'd like to improve communication by giving law enforcement agencies easier access to employees in the attorney's office. He went on to say he thinks attorneys or assistants should travel to crime scenes.
"The advantage is they get to see the crime scene of the case," he said, adding that would increase the chance for successful prosecution.
Thompson responded by saying those are initiatives he has implemented since he took office four years ago. Attorneys work closely with officers and have open lines of communication, he said, which his track records shows has been successful.
During his opening statement, Thompson said increased communication between agencies and a new paperless system have helped his office take 40 percent more cases to court rather than the 30 percent backlog when he entered office.
"That means these cases are not falling through the cracks anymore," he said.
After taking office, he said, he immediately took action to improve communication between agencies
When asked their opinion of the use of diversion agreements, both candidates agreed they should only be used for minor crimes, such as graffiti or small theft, especially if the perpetrator is a minor.
Sheriff
Welsh and Dedeke both highlighted their work experience and many leadership roles as strengths during the forum, but Welsh especially promoted his higher level of education and leadership roles within departments in which he's worked. Welsh apologized to Dedeke for falsely stating that Dedeke had no more than a high school education in a conversation with voters. Dedeke has an associate's degree.
The two had differing opinions on the primary challenge for the sheriff's office. Dedeke said the challenge is recruiting and retaining qualified personnel while competing with larger salaries in surrounding areas. Welsh cited financial burdens and cooperation difficulties between agencies.
Both candidates agreed that there's no easy solution for animal control issues within the county. Welsh said he'd like to see the development of a long-range plan to handle the problem, but contracting with an organization or outside agency that's actually trained in animal control would be a good route.
Dedeke pointed out that the sheriff's office has neither the legal authority nor the responsibility to handle animal control. The task could be undertaken, but the department first needs training and funding for it from the county commission.
"We know there's an expectation of services, but we don't have the funding for that," Dedeke said.
During the forum, Welsh continued to point out Dedeke's lack of education, stating that by department hiring criteria, Dedeke would not be qualified to be chief of police at a department one-fifth the size of the Leavenworth County Sheriff's Office, which has more than 100 employees.
"I think he's about 10 years too early in his career," Welsh said.
Dedeke countered by saying his experience within the sheriff's office and rapport with community members is what will make him a successful sheriff.
"I'm not applying for chief of police; I'm running for sheriff," he said. He added that the qualifications for that office are only that he is 21 or older and doesn't have a felony.
County Commission District 3
Bixby opened by discussing the need to foster the district's opportunity for growth with long-range planning while still maintaining a high quality of life in the area.
Yanez opened by highlighting his experience, as well as his business-like, instead of political-minded, approach to issues within the county.
"I don't come to work with my mind made up," he said.
When asked whether they would favor a sales tax increase over a property tax increase to raise revenue, both Bixby and Yanez agreed that it would depend upon how the money would be used.
"One thing my opponent and I agree on is taxes are a sticky issue," Bixby said.
Property taxes hurt individuals, but they particularly hurt businesses, he said, which isn't good for the local economy. The solution is to grow the tax base by attracting more good-paying jobs, which spreads the burden, he said.
Yanez said he would first want to know what the money will be used for and then decide, weighing the burden to property owners versus spreading it out through sales tax.
On the subject of funding the Tonganoxie Industrial Park, both candidates agreed that the county probably shouldn't fund it. Both wanted to see the city slowly build the area and attract businesses, but without financial aid from the county.
Yanez said even if the county can't provide fiscal support, it can use its resources for political advocacy to attract businesses.
"Let's be a partner, not be an obstacle," he said.
Bixby said he believes the best way to attract businesses to the area is through a cooperative and helpful government that takes an interest in small business owners.
"Word will get out that Leavenworth County is a great place to do business," he said.
Treasurer
Dickson used the forum to focus on her experience within the county clerk's office, which she said has prepared her to step into the role as treasurer.
Educational background was the central point of Koch, who has a bachelor's degree in math and a master's in economics.
Both candidates agreed the primary challenge facing the office is the new motor vehicle system, which has been problematic across the state.
In their closing statements, Koch said his education has prepared him to succeed as treasurer. Dickson countered by saying institutional and working knowledge of the department outweighs educational background.
"There's no time for a learning curve," she said.
Register of deeds
Stacy Driscoll, who is running unopposed, also appeared at the forum to introduce herself and speak on the progress she has made while in office since 1999.
— Look for questionnaire answers from the county treasurer race on page 9 and more online.
This article has been corrected to show that sheriff candidate Burdel Welsh falsely stated that Dedeke had no more than a high school education in a conversation with voters.