Food Q&A: Opening winter squash doesn't have to be difficult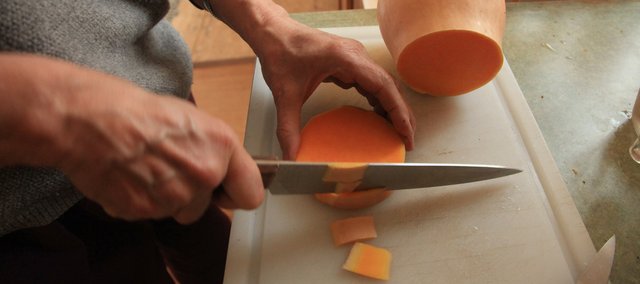 Q: Now that the winter squash season is here, what's the trick to peeling butternut and spaghetti squashes? They're so hard, I don't know how to use them.
A: After hiding all that flavor and those nutrients inside them, nature certainly didn't make hard-shell squashes easy to open. You could keep one of those pumpkin-carving kits around. The saw-tooth blade can help open a squash.
But an easier way to tackle hard but smooth-skinned winter squashes is to start with the microwave. Use a metal skewer, a strong fork or the tip of a small paring knife to poke several holes through the skin. Then put the squash in the microwave for about 3 minutes.
That will soften the skin a little, so it will be easier to cut it in half for roasting, or to use a vegetable peeler to remove the skin and dice the squash.
For spaghetti squash, instead of peeling it, cut it in half, scrape out the seeds and either bake or steam the halves until it is soft enough to use a fork to release the long strands.
— Email questions about food and cooking to kpurvis@charlotteobserver.com