Bobcats fall to Tonganoxie, miss playoff cut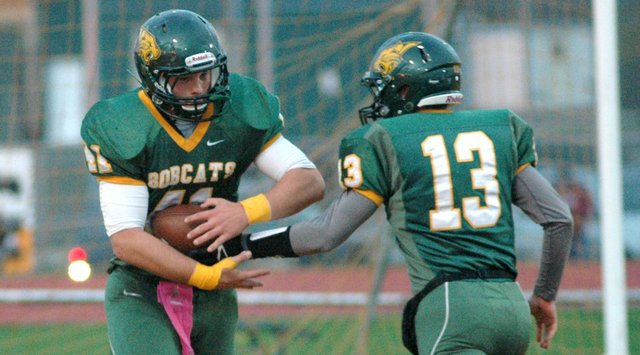 Basehor-Linwood led Tonganoxie by 11 points in the first half, but couldn't find an answer for the Chieftains' ground attack in an 18-11, season-ending loss on Thursday at home.
The loss locked the Bobcats out of the postseason for the first time since 2006.
The Chieftains (5-5 after defeating Atchison on Tuesday) broke open an 11-11 tie on the first play of the fourth quarter when Cole Holloway scored on a five-yard run — his second touchdown of the game. Holloway picked up big chunks of yards at will against the Basehor-Linwood defense, carrying the ball 38 times for 232 yards.
The Bobcats (4-5) had several chances to answer the score in the fourth quarter, but their three fourth-quarter drives ended with a punt, a turnover on downs and a failed desperation play as time expired.
After a scoreless first quarter, Basehor-Linwood drew first blood when Tanner Garver hooked up with Ben Johnson from nine yards out with 9:02 left until halftime. Garver and Johnson connected again on the two-point try to make it 8-0 Bobcats. A muffed kickoff return gave the Bobcats the ball inside the Chieftain 10 one play later, but the Chieftains defense limited Basehor-Linwood to a 22-yard field goal by Gage Wiser.
The Chieftains needed just four minutes to answer, as they marched 80 yards and scored on a 19-yard burst by Holloway. Tyler Ford hit Shane Levy for a two-point conversion to make it a three-point game with 2:34 left. The Chieftain defense then forced the Bobcats to go three-and-out while taking just 13 seconds off the clock. Several long runs by Holloway and Levy gave Tonganoxie a chance to tie the game in the final seconds of the half.
Eric Tate capitalized on a 28-yard field goal attempt with just three seconds remaining, and the teams went into the break deadlocked at 11-11.
As a team, the Bobcats passed for just 121 yards. Garver led the way with 56 yards and a touchdown on 5-of-10 passing.
The Bobcats' top target was Johnson, who hauled in six receptions for 44 yards. Meanwhile, junior Tim Sanders entered the game late and completed 4-of-5 passes for 49 yards.
For one more game, senior Drew Potter led the Bobcats in rushing with 101 yards on 20 carries, but was held out of the end zone for just the second time this season.
Four Bobcats recorded 10 or more tackles on Thursday, led by junior Cory McCleary with 15. Garver and junior Jake Phillips each added 13 tackles, and Johnson recorded 10 stops, including two sacks.