Chieftains, Bobcats enter Thursday's meeting with playoff bid at stake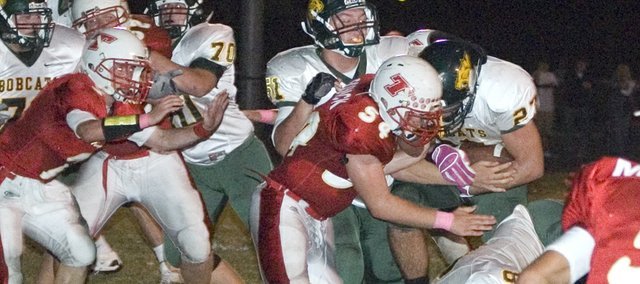 The beginning of 2012 football season was hardly the same for Tonganoxie and Basehor-Linwood. The Chieftains entered the year with a new coach and a young team determined to improve on back-to-back one-win seasons. The Bobcats, on the other hand, started off with a regular season win streak dating back to 2009.
Both squads have seen their fair shares of ups and downs since kicking off the season on Aug. 31, but with one game left on the schedule — tonight's 7 p.m. meeting at BLHS — the stakes are identical for the players on either sideline.
Tonganoxie (3-5) and Basehor-Linwood (4-4) each split their first two Class 4A District 2 games against Perry-Lecompton and Jefferson West, forcing a win-and-in playoff scenario in tonight's regular season finale. Both squads enter the game with some momentum, as the Bobcats downed Perry-Lecompton last week, 29-14, while the Chieftains hung on for a 9-7 win against Jeff West.
"We knew we had to win the last two games after dropping our first district game, but we also had to try to win by plus-13, we thought, in case it came down to points," Basehor-Linwood coach Steve Hopkins said. "It was actually a great relief when it was announced late in the fourth quarter (last week) that Tonganoxie won. Once Tonganoxie was announced as the winner, things got real simple for us and for Tongie for this Thursday: win and advance, qualify for the playoffs. Or, lose and you check in equipment and plan the banquet."
Tonight's clash will feature the Kaw Valley League's top two rushers in Bobcat senior Drew Potter and Chieftain junior Cole Holloway. Potter has racked up 1,022 rushing yards and 15 touchdowns, while Holloway has gone for 843 yards and seven scores.
Both offenses have also proven capable of moving the ball through the air in 2012. THS junior Tyler Ford has thrown for 795 yards and four touchdowns, while BLHS seniors Zac Hevel and Tanner Garver have split time under center and combined for 745 yards and four scores.
Garver has emerged as a dual-threat option for the Bobcats, as he's also accounted for 402 yards and six touchdowns on the ground.
Junior Shane Levy has been Ford's favorite target throughout the season, hauling in 34 catches for 473 yards and a touchdown. Meanwhile, senior Ben Johnson, a University of Kansas commit, has accounted for 554 of the Bobcats' receiving yards to go along with four scores.
"(Basehor-Linwood) has quite a few threats," Chieftain coach Al Troyer said. "Everybody knows about Ben Johnson, but their tailback is the leading rusher in the league. Then, they've got a quarterback who can take off and run and another that can throw. They have a lot of weapons."
Defensively, both teams have played well in recent weeks. Tonganoxie has allowed 21.3 points per game in its last four contests, compared to 41.3 in its first four. The Chieftains limited Jeff West to just seven points while totaling six sacks and two key stops on fourth down. Basehor-Linwood has allowed just 15 points per game in its last four contests.
Players and coaches had to alter their regular practice schedules to accommodate for the Thursday game, but according to Troyer, that has done nothing to take away from the significance of the meeting, in which the Chieftains could clinch their first playoff bid since 2006.
"We just shortened things up (Wednesday), but we did our normal routine this week," he said. "We changed the variation a little on Monday, but it was pretty much the same. You can't ask for a better situation. You've got a rivalry game with Basehor for a playoff spot."
As if the Bobcats didn't already have plenty of incentive, the game will be the final regular season contest for 13 seniors who have never played just nine games in a season.
"For this year's senior class and our entire program, making the state playoffs is always the focus all four years," Hopkins said. "This week's game with Tonganoxie is the third step in that process, and to still be able to go on is such a huge motivator."
Basehor-Linwood rolled in last year's meeting with the Chieftains, claiming a 42-0 victory at home. The Bobcats currently own a five-game win streak against THS.
Additional game notes
Fans who can't make it to the game can follow a live broadcast, which is available here.
The winner of tonight's game will clinch a playoff berth, but either team would need help from the other district game to win the district title. If Tonganoxie wins, it would need Jeff West to defeat Perry-Lecompton. If Basehor-Linwood wins, it would need Perry-Lecompton to win.
The District 2 winner will play host to the winner of Thursday's District 1 game between Atchison and Sumner Academy in the postseason opener on Tuesday. The second-place finisher will travel to Piper. More information about potential playoff scenarios is available here.
In the event of a close game, recent history would favor Tonganoxie. The Chieftains are 2-0 this season in games decided by single digits, while Basehor-Linwood is 0-2.
Tonganoxie has made a habit of breaking streaks this season. In its first game of the year, it defeated Lansing for the first time since 2006. Last week, it won a district game for the first time since 2008. The Chieftains could kill two six-year-old streaks with a win tonight, as they haven't defeated Basehor-Linwood or reached the postseason since 2006.
Basehor-Linwood has reached the playoffs in each of the last five seasons. The Bobcats haven't finished a season below .500 since going 4-6 since 2008. They went a combined 27-3 from 2009 to 2011.