Bobcats raise bar after first-ever state tournament appearance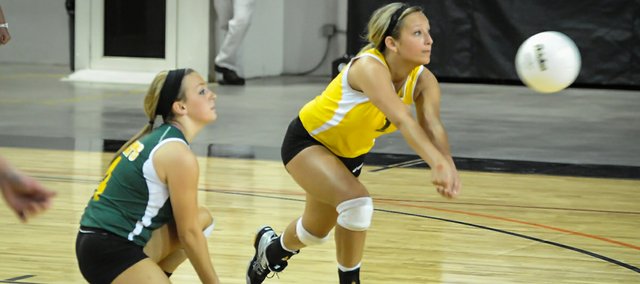 Photo Gallery
Basehor-Linwood volleyball at 4A state tournament
The Bobcats' season came to a close on Friday in Salina.
Basehor-Linwood volleyball coach Amy Irvin and her four seniors got their wish: a bus ride to Salina for the Bobcats' first state tournament in school history.
After coming up short in pool play on Friday, Irvin — a second-year coach at Basehor-Linwood — made it clear to the returning players what will pass for success in 2013.
"Now the bar of expectations has been raised for the future of the program," Irvin said.
Next season, simply getting there won't be enough, Irvin said.
The Bobcats (20-22) had their moments but dropped all three of their Friday matches, which began as early as 8:30 a.m.
Chanute downed Basehor-Linwood (14-25, 18-25) to open. Rose Hill defeated the Bobcats (18-25, 22-25) and Basehor-Linwood's day ended with a loss to Louisburg (11-25, 24-26).
"We had some really good moments of hustle and drive," Irvin said, "but very few times did it all come together."
Basehor-Linwood's inexperience at the state tournament level played a role early on, Irvin saying that the Bobcats "played scared at times instead of leaving it all on the floor." Though proud of making program history, Irvin said she and her players agreed that they didn't play their game.
"Everyone we played on Friday were completely beatable," Irvin said. "It was a huge step, a lot of pressure. We have never been in the spotlight like that before in that type of competition as a team."
The road to state was paved by a senior night victory against Lansing to finish second in the Kaw Valley League, followed by a sub-state championship in Tonganoxie late last month.
The trip marked the end of the careers of seniors Brandi Stahl, Jamie Johnson, Haley Waters and Samantha Rutherford. Irvin said Stahl has committed to the College of the Ozarks to play volleyball and that Rutherford is considering playing at the next level, too.
"It meant so much to me and my seniors to go to state this year," Irvin said. "I have known most of them since they were in middle school when it comes to volleyball."
Though difficult to imagine the team without this year's seniors, Irvin said she's already looking forward to next season. Juniors Hailey Robinson and Allison Heinen are expected to return for their senior season, and underclassmen Abbey Mellies, Jamie Weible, Courtney Robinson and Madi Osterhaus will have a crucial year of seasoning to build on.
"They have that drive and determination more than ever after going to state this year and it ending as it did," Irvin said. "They know that by what happened on Friday, with our early exit, that you cannot play scared."