Garage sale 'recycles' holiday decorations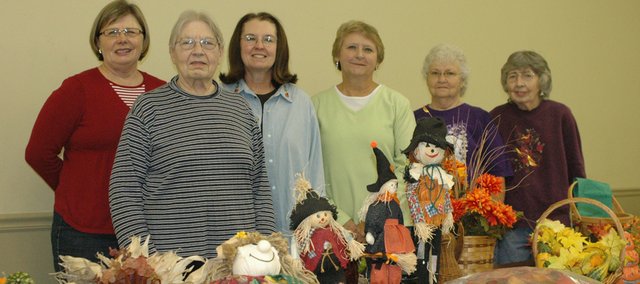 A unique garage sale is allowing residents of Bonner Springs to recycle their holiday decorations for a good cause.
The United Methodist Women's group at Bonner Springs United Methodist Church had its second-annual Holiday Garage Sale Saturday, an event that takes donations of any and all holiday decorations and sells them at low prices to those who can use them.
"It's kind of a service to the community because nothing is priced," said Mary Clark, who led the organization of this year's sale. "This is our motto: we have faith that you will pay a fair price. And in turn, we hope they can find something they can use."
The idea sprang from the church's first all-church garage sale in August 2011, when those in charge noticed a number of holiday decorations that were hard to price, and the first holiday-only sale took place a couple of months later. Clark said the sale has proven useful for families who have been using the same decorations for a few years and were ready for something new.
"Sometimes we find those that are working here are trading out the most decorations," she said. "We end up walking out with more than we brought in."
While any holiday décor is welcome, the sale takes place in October because most decoration items are for the "big three" end-of-the-year holidays: Halloween, Thanksgiving and Christmas. Other holidays — Valentine's Day, Easter, Fourth of July, St. Patrick's Day, even Father or Mother's Day — took up just a couple of the 18 or so tables at Saturday's sale.
This year's sale brought all sizes of Christmas trees and yard decorations, though the larger items went quickly.
The all-church sale in August and the holiday sale in October now have become annual events, and the women's group hopes to see them grow as the community becomes more aware.
All of the funds from the sale go to the church's missions, and they have found unique ways to make a charitable donation with the sale's left-overs.
"The person who picked it up last year had been out of work for two months," Clark said. "So (selling the items online) became a source of income for that person."
This year, a new charity called "E-Heaven" took the items and distribute them to other charitable organizations.
"So it's giving all the way through," Clark said.