Stepping back into the spotlight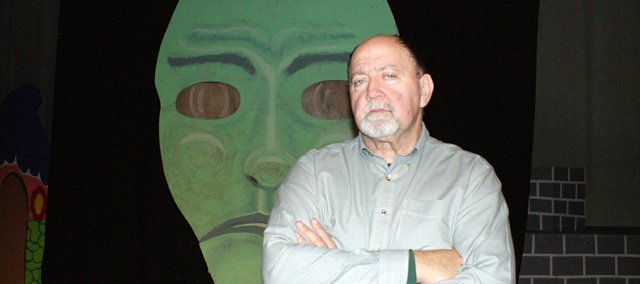 Making his first stage appearance in more than 40 years, Basehor-Linwood High School counselor C.R. Goodin will step into the role of the wizard in the school's performance of "The Wizard of Oz" next week.
Goodin started performing when he was in high school at Bonner Springs. They were all small roles, he said, and he didn't have many lines.
After taking a theater class in college, he pursued a theater degree, focusing on the technical side, not the acting.
"I'm a behind-the-scenes kind of person," he said.
But he'll be front and center next week as the wizard and Professor Marvel.
"I'm 63 and this is the biggest role," he said.
To add to Goodin's nerves, he's only had two weeks to prepare since agreeing to fill in for someone who dropped out of the role.
"If I can get my lines down, I'll be fine," he said.
When director and theater teacher Rebecca Knowles had to find a quick replacement, Goodin was the first to come to mind, she said. He has the perfect deep voice for the wizard, and he isn't afraid to ham it up on stage.
"It's really been a lot of fun," she said.
The student actors are also enjoying their new castmate, Knowles said, but at first they couldn't stop laughing because Goodin is such a big character on stage. In addition to Goodin, a couple of other teachers are playing small roles in the musical.
"They've added a lot to the show," Knowles said.
"The Wizard of Oz" will run from Nov. 8 to Nov. 10 at 7 p.m. with an afternoon show Nov. 11 at 2 p.m. Tickets are $5 for the general public and $4 for students, seniors and children.