Bobcats run wild in 56-0 victory against Bishop Ward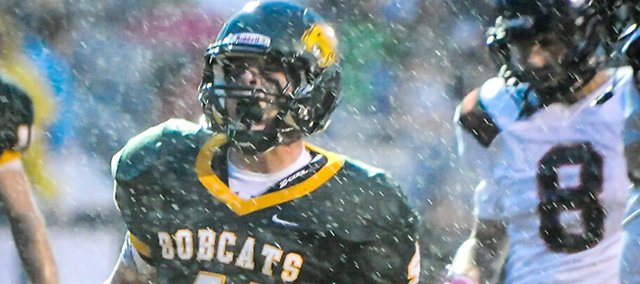 For the first game of the season on a slippery night, this was as good as it could have gone for Basehor-Linwood.
Basehor-Linwood pounced all over Bishop Ward in the rain, 56-0, using an overwhelming ground game. The Bobcats ran for more than 350 yards, the bulk of which from senior Drew Potter (178 yards and two touchdowns).
The Bobcats scored on all but two possessions during the game, one drive ending in a turnover and the other on downs. Other than a few mistakes, which could have been because of the sloppy conditions, Basehor-Linwood looked like it was doing everything it wanted.
The huge holes were open on the ground all night, with Potter getting runs of 59 and 55 yards. Alex Jackson's first carry went for 26 yards, Paul Rehm took his for 16 and Jake Phillips went for 14 yards and a touchdown on his first carry.
The two-headed passing attack was all about quality over quantity. Seniors Zac Hevel and Tanner Garver split duties as expected and together completed 5-for-8 passing. Garver found senior Ben Johnson for two long plays, 37 and 28 yards respectively, each going for a touchdown.
At halftime of Basehor-Linwood's 56-0 victory against Bishop Ward Friday night, the offensive line talked about an adjustment on a certain running play that, if executed properly, could result in a huge gain.
The Bobcats opened the second half with that play and senior running back Drew Potter busted through for a 55-yard touchdown.
It wasn't significant as far as the scoreboard was concerned — the Bobcats had a 29-0 halftime advantage — but it was exemplary of what they do best, which is keeping the ball on the ground.
The Bobcats ran for more than 400 yards in their opening game of the season. They are a power-running team, but the high amount of running plays could have had to do with the rain. The slippery conditions might have also factored into some miscues.
"There were times where I said we were making some sloppy mistakes, but they were first-game type sloppy mistakes," coach Steve Hopkins said. "I hope we don't make those again."
But the running game looked flawless with Potter finishing with 170 yards and two touchdowns, junior Jake Phillips going for 45 and a touchdown, junior Alex Jackson running for 44 yards and quarterback Tanner Garver getting into the action with 35 yards and a score.
Freshman Jahron McPherson scored an impressive 14-yard touchdown late in the fourth quarter, showing the seemingly endless depth in this backfield.
It is taboo for a coach to be entirely satisfied with a team's performance, but Hopkins was as close as one could be after starting the season with such a performance.
After a bad play, the team responded by running a great one, which is all a coach can ask for. As far as individual performances go, nothing surprised Hopkins.
"Right now," he said, "no one jumped out at me, pro or con."
The biggest question this offseason was if the tag-team quarterback system with Garver and Zac Hevel could produce the numbers of former Basehor-Linwood star, Colin Murphy.
"We couldn't really show anything tonight with the weather and all that," senior tight end Ben Johnson said.
There were only five completed passes by the duo, the big ones coming from Garver to Johnson. One was a 37-yard touchdown and the other was an impressive 28-yard touchdown. Garver took more snaps in this game, Hopkins said, because he was handling the wet ball better.
But that did not stop Hevel from contributing. Hopkins keeps both quarterbacks out on offense in some capacity, usually wide receiver, and it allows them to see the game from different angles.
Hevel and Garver confer with each other on the coverage and make adjustments accordingly.
There will be some games where one may shine more than the other, but they tend to bask in each other's glow.
It is a dual quarterback situation without controversy, a coach's dream.
"Both kids, they just want to win." Hopkins said. "And to be real honest, they don't care if they are handing it off, throwing it or catching it. They just want to win."
The Bobcats (1-0) host Piper at 7 p.m. on Friday.