Braves assistant coach, younger brother begin careers in tandem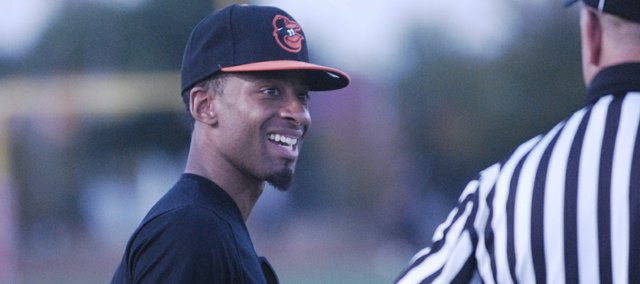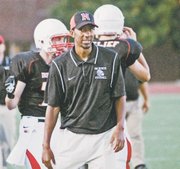 To understand LaDrew and Landon Murrell's relationship, know that they were too far apart in age to see each other on the same football field and, still, the competitive juices flowed.
Being four years apart, they had to invent ways to determine the better athlete. While Landon played wide receiver at Shawnee Mission North, LaDrew played receiver at MidAmerica Nazarene and after games, they would call each other to compare stats.
But the dynamic shifted after LaDrew graduated from college.
"Things were solely about Landon," he said. "It wasn't so much about me anymore, so our relationship changed a little bit. It wasn't so much competitive, it was more of a team."
But in Landon's eyes, it was about LaDrew. LaDrew, who is in his first year as an assistant football coach for Bonner Springs, has set a path for Landon, who is starting his coaching career as an assistant at Shawnee Mission North this year. After knowing the details, it's as if Landon is LaDrew, but on a four-year delay.
Each played wide receiver for Shawnee Mission North, LaDrew graduating in 2003 and Landon graduating in 2007. They each went on to play at MidAmerica Nazarene, where they studied physical education.
LaDrew went on to graduate and, with connections at SM North, signed on as an assistant coach while teaching elementary school in Bonner Springs. Since teaching was his goal, he could combine it with his passion, which was football. Landon, on the other hand, didn't set those kinds of goals.
"When I was young, I didn't really know what I was going to do," Landon said. "But I always like to follow in LaDrew's footsteps."
While LaDrew was teaching summer school, Landon filled in for him at SM North practices. Coach Dennis Grayless was impressed and told him that there was a job for him once he graduated. He was true to his word.
Grayless didn't coach either of the Murrells, but he has had each on his staff because they were loyal to the school, knew the tradition and had the same passion about teaching football. Even in coaching styles, Grayless said, you could see that they are related.
"When a young man does something wrong, they don't necessarily jump down their throat but they do get their point across," he said. "They are quite positive in their approach."
To teach football is to provide a young man with values beyond X's and O's, LaDrew said. It's about loyalty, commitment and discipline. Landon remembers how football taught him about the consequences of being late and learning from mistakes. Both want to leave players, above all, better men.
"The game of football will then come easy to you if you can embody the characteristics that the game can give you," LaDrew said.
When the competitive edge died down between the siblings, it was LaDrew helping Landon with his technique at MidAmerica Nazarene rather than comparing receiving yards or touchdowns.
Now that they are again in opposing roles, LaDrew does not want it to be a competition. He still has loyalty to SM North and wishes the best for the program, but his goal is to help Bonner Springs make it to state. Luckily, the Murrell brothers were three sport athletes and have ways around that.
Growing up, LaDrew would win every competition between Landon because he was older. In turn, it pushed the younger brother strive for what the older one could do. Landon claims that since his senior year of high school, he hasn't lost in anything.
"I'll never let him beat me again," Landon said.