New Basehor-Linwood school lunches draw praise, criticism during first few weeks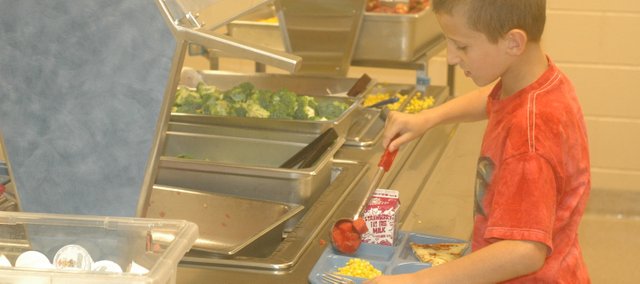 As Taylor Marcus munched on a slice of pizza in the Basehor Intermediate School lunchroom Friday, she remembered what the school's pizza used to be like.
Not only did it not taste as good, she said, but it was coated with a disturbing amount of grease.
"The pizza, you'd stick a napkin on it, and you'd pick it up, and it would be, like, soaked with grease," said Taylor, a fifth-grader at BIS.
Taylor, along with other BIS students at lunch Friday, gave rave reviews to the new lunches in Basehor-Linwood schools. The district switched this year to a private food-service company, Opaa Food Management, which focuses on made-from-scratch cooking.
Districtwide — especially at Basehor-Linwood High School — reviews of the new menus during their first few weeks have been more mixed, Superintendent David Howard admitted.
But Howard said he believed people would come around as the new system's kinks are worked out. Some complaints from students and patrons, he said, have less to do with the switch to Opaa and more to do with new federal school nutrition guidelines.
"It's still relatively new, and so I think people are really jumping on right now without giving us a chance," Howard said.
Several Basehor-Linwood parents responded to a query about the new lunches on the Sentinel's Facebook page with criticism, saying their children didn't like the food, portions were too small and lunch time was too rushed.
"This is (supposed) to help the kids eat healthier," wrote Bonnie Hefton, a parent of three Basehor-Linwood students, "but if they are hardly eating at lunch time and eating out of vending machines and coming home starving, that is only going to make them overeat when they get home."
Howard said he'd heard a number of complaints, as well. The most common, he said, is that portion sizes are too small.
Basehor-Linwood schools had no say in that change. New federal school lunch nutrition guidelines, put in place by the Healthy, Hunger-Free Kids Act of 2010, went into effect for this school year. The regulations limit calories and increase the amount of whole grain, fruits and vegetables in each meal.
Another change that has drawn complaints — that students can now have only a limited amount of calorie-laden condiments such as ranch dressing, barbecue sauce or mayonnaise — is also due to the new rules, Howard said.
"I think there's a lot of assumption that portions or lack of all the ranch dressing they want, some of that's attributed to the food service company when actually that would have happened regardless," Howard said.
He said he often hears complaints about lunch time being too short at the beginning of the school year, as new students get adjusted to the lunch routine. But those problems are generally sorted out as the year goes on, he said.
"A lot of it is just beginning-of-the-year stuff," Howard said.
Most of the complaints about the new lunches have come from parents and students at the high school or Basehor-Linwood Middle School, Howard said.
But at Basehor Intermediate School on Friday, students praised the new food. They said they enjoyed having a choice of different meal options for the first time.
"I like it a lot better than last year, because you get to pick what you want," said fifth-grader Taylor Theno.
Taylor Marcus said this year's food tasted better and it was noticeably healthier and less greasy.
BIS Principal Teri Boyd said more students there had been purchasing hot lunches than ever before, and for the first time the school's lunches weren't shipped in already prepared from somewhere else in the district.
"They make it from scratch here now," Boyd said.
Across the district, Howard said, participation in the hot-lunch program is up 15 percent this year so far.
He noted that while the new nutrition guidelines limit the size of students' entrees, they could eat virtually unlimited amounts of vegetables and fruits. All in all, he said he believed families got a great deal for the price of $2.30 per meal in the elementary schools or $2.40 for middle- and high-school students.
"Please tell me where you can eat for $2.30," Howard said.
Middle- and high-schoolers racking up higher lunch bills are likely making use of the cafeteria's a la carte options, for which the district receives no reimbursement from the federal government. The district may increase those options this year for students, Howard said, but in future years stricter federal rules likely will shrink the a la carte menu.
Howard invited any parents with questions about the new meals to come by and try one. If they email him in advance (dhoward@usd458.org), he offered to buy their lunch.
As the district's lunch workers gain experience with the new system, he said, meals should only improve.
"A lot of it's just new, and it's going to take some time," Howard said.