Basehor-Linwood High School wins National Blue Ribbon Schools honor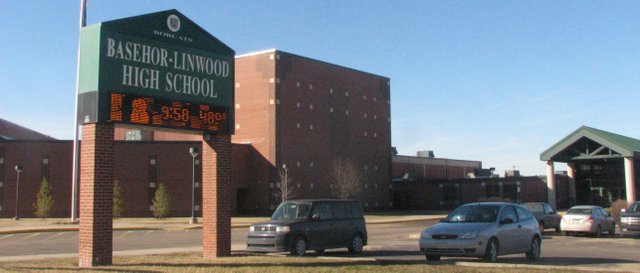 2012 Kansas Blue Ribbon Schools
Exemplary High Performing Schools, recognized for scoring among the best on state assessments:
• Basehor-Linwood High School
• Blue Valley High School, Stilwell
• Goddard High School, Goddard
• St. Thomas Aquinas High School, Overland Park
Exemplary Improving Schools, recognized for improvements with at least 40 percent of students from disadvantaged backgrounds:
• Garden City High School, Garden City
• Marshall Elementary School, Eureka
Basehor-Linwood High School was named a National Blue Ribbon School by U.S. Secretary of Education Arne Duncan on Friday, one of six schools in the state to earn the honor for 2012.
Across the country, 269 elementary, middle and high schools were honored. Basehor-Linwood was one of four public high schools from Kansas on the list.
"We are in very good company," said Basehor-Linwood Superintendent David Howard.
The Blue Ribbon honor is awarded to schools that score among the best on state assessment tests, as well as to schools with higher levels of disadvantaged students that make sizable improvements.
Howard said much of the credit should go to BLHS Principal Sherry Reeves, other administration and the school's teachers for a focus on tougher standards in recent years.
"There's been a concerted effort to improve academic rigor at our high school," Howard said.
Kansas Education Commissioner Diane DeBacker nominated BLHS for the honor in December 2011 after it finished among the top 15 percent of schools statewide on reading and math assessments in the 2010-11 school year. Officials also examined the school's scores in 2011-12, Howard said, to make sure that it maintained its performance.
Howard said the entire school district deserves credit for the performance of the high school students, many of whom attended elementary and middle school in Basehor-Linwood as well.
A team of staff members at BLHS put together a required lengthy application for the Blue Ribbon award after the school was nominated last winter. The school will receive the award at a ceremony in Washington, D.C., in November.
Howard said the district would also have its community and parents to thank, for showing a great deal of involvement in students' success.
"We're just very fortunate," Howard said. "We're in a great place here."