Bobcats dealt first regular-season loss since 2009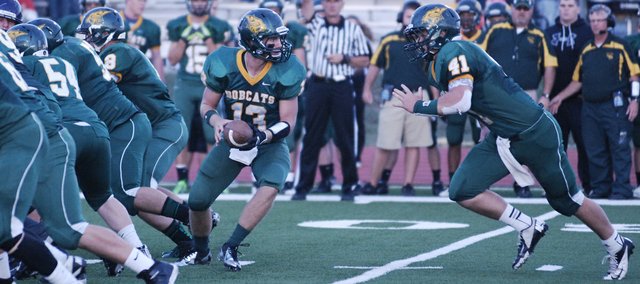 Replay
Catch a replay of 810varsity.com's broadcast of the game right here.
Photo Gallery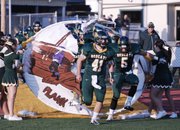 Piper 35, Basehor-Linwood 22
Piper defeated Basehor-Linwood, 35-22, on Friday, Sept. 7. The Bobcats travel to Mill Valley on Sept. 14 for their first road game of the season.
Late Friday night, Andrew Lillich and the rest of the Basehor-Linwood football team's seniors turned and walked away from a place no Bobcats team had been for three years and 24 regular season games: a losing post-game huddle.
As vows to hit the weight room hard the next day were shared, opposite the Bobcats was a purple mass of Piper Pirates, their fists thrusting their helmets skyward in celebration.
Piper 35, Basehor-Linwood 22.
"We're really going to have to get after it now," Lillich said, "because we don't want this to happen again."
The Bobcats' first regular season loss since 2009 looked like this: a well-executed, run-heavy opening drive ending with a fumble in the red zone. A 14-0 hole erased by a spectacular 46-yard catch-and-run down the sideline by senior Ben Johnson. A wallop of a Piper second-half-opening touchdown drive, and flirtations with brilliance by Basehor-Linwood met only by a visiting team none too happy to slam a door in the home team's face.
"We got beat," Basehor-Linwood coach Steve Hopkins said. "Just flat out beat."
It began well enough for the Bobcats, their opening drive eating half the first quarter, with four first downs while entering scoring position. The Bobcats executed their run-heavy offense to a T, with senior Drew Potter accounting for 25 yards in the drive.
But, deep in Piper territory, senior quarterback Tanner Garver was sacked and, on the next snap, lost a fumble.
The Pirates kept the Bobcats on their heels in the ensuing possession, as Piper quarterback Tanner Eikenbary made plays both on his feet and through the air, while running back Paul Jones broke free for a pair of big gains, the last of which put Piper up early off a 12-yard touchdown bolt.
Piper senior cornerback Keaton Cofield gave Basehor-Linwood's passing attack fits all night, his chief assignment keeping tabs on Johnson. Cofield picked off a Zac Hevel pass when the ball bobbled out of Johnson's hands late in the first quarter, setting up an eventual touchdown run by Piper senior Matt McDonald early in the second quarter. Hevel completed 3-of-6 passes for 65 yards and two interceptions, and Garver threw for 113 yards off 7-of-13 passing with one touchdown and one interception. Defensively, Cory McCleary led Basehor-Linwood with 12 tackles, and Garver added nine stops.
Down 14-0, the Bobcats seized a bit of redemption when, five plays into their next drive, Garver targeted Johnson along the sideline. The ball bobbled again, but Johnson stuck with it as it popped above the heads of two Piper defenders and back into his hands. Daylight. Johnson led the Bobcats with eight receptions for 151 yards and the score, catching all but two of the Bobcats' 10 completions.
The pair hooked up again for a 2-point conversion to make it a six-point game 9:31 in the second quarter. The Bobcats saw a chance to tie (or better) evaporate late in the first half when consecutive completions to Johnson and a 10-yard pass to Potter drew pass interference to set the Bobcats up in the red zone once again. On the next play Piper sophomore Dalton Hays — looming ahead of a paydirt-bound Johnson — slammed the door shut on the drive with an interception just in front of the pylon.
"Everybody's trying to do things too hard," Hopkins said. "They're trying too hard to do the big play when, sometimes, we need to just take what's there."
Down 21-8 late in the third, Garver and Potter responded by combining for eight straight rushes and three first downs before Garver completed an 18-yard touchdown to senior Paul Rehm, and tossed a last-second completion to Potter for a successful 2-point conversion to make it 21-16 with 3:28 left in the third quarter. Garver led the Bobcats — who rushed for 164 yards as a team — with 70 yards on 19 carries. Potter was close behind with 15 carries for 65 yards.
A failed fourth-down attempt on the Bobcats' own 16-yard line set up another Piper score, but the Bobcats weren't done yet. Freshman Jahron McPherson reignited the crowd with a dynamic kickoff return to midfield, and, on fourth down in Piper territory, Garver tossed a 9-yard touchdown to a diving Hevel to make it 35-22.
But Piper's Blake Martin later sealed a Bobcats loss when he intercepted Hevel with less than two minutes to play.
Quiet resolve shared a huddle with tears and vinegar as the seniors hung back a little longer after the game. Their next assignment, at Mill Valley (1-1) at 7 p.m. on Friday is every bit a challenge as Piper. Consecutive games against fellow Kaw Valley League offensive machines were bound to test a new-look team, and Lillich said winning the league took a backseat to peaking in time for a deep playoff run.
Still, for the first time in awhile, the Bobcats tasted defeat in September, and are eager to rid themselves of its bitterness.
"We're going to bounce back," Lillich said. "We got this."