Basehor City Council moving ahead with city administrator search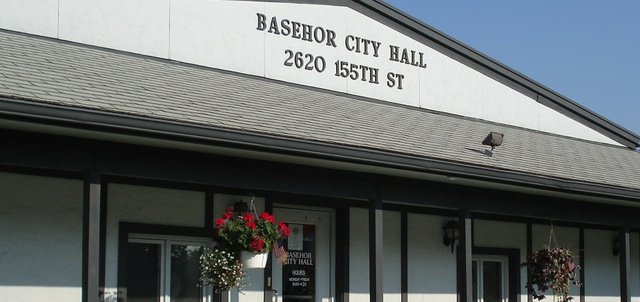 After nearly a year with the office vacant, the Basehor City Council is ready to find a new city administrator.
Council members said during their work session Monday they believed the city had gone long enough without its top unelected official, and they were ready to begin searching for a new administrator now rather than wait for the election of new council members in April.
"The city's been on hold basically for 11 months now," said council member Dick Drennon, who requested last month that the council begin working to fill the spot.
Member Ty Garver asked the others how they felt about making such a significant move when four of the five current council members were appointed rather than elected. The response from several was that they had been charged with governing the city, and hiring a new administrator is what needs to be done.
"We took an oath to take action and do the right things for this council," member Brian Healy said, "not to wait for an election and not to worry about being re-elected."
Garver and Healy, who were appointed in April to replace recalled former member Dennis Mertz and current Mayor David Breuer, are in seats that will be up for election in April 2013. Breuer's term ends in 2013, as well. Drennon and Vernon J. Fields, who replaced former members Iris Dysart and Fred Box, have terms that will last until 2015.
Council members said they hoped to settle on a job description, a salary range and a search method at their October work session.
Interim City Administrator Lloyd Martley said one option would be for the city to hire the League of Kansas Municipalities to conduct a candidate search. The city paid the LKM about $5,200 for such services during its search in 2009, though the candidate who was ultimately hired, Mark Loughry, was not found through the LKM's service.
Council members said they may favor saving the city some money and conducting the search themselves, though Martley said that culling a large pool of applicants for a few candidates to interview could be a time-consuming process.
"Do all of you have time to sit here and read 200 applications?" Martley said.
Another option, he said, would be to inquire with the city's human-resources contractor about helping with the search.
Member Travis Miles took the occasion to thank Martley, who has filled in since Loughry's firing in September 2011 while also serving as police chief.
"You've done a fantastic job keeping this city moving forward for the last 12 months," Miles said.
Also during Monday's council work session:
• Bryan Kidney of the city's financial supervisor, Springsted Inc., presented the council with a framed certificate congratulating the city on the AA-minus bond rating it earned from Standard & Poor's on the $8.8 million in general-obligation bonds it sold last month.
Kidney said the rating was impressive for a city Basehor's size, and S&P had cited the strength of the city's funds and its management, as well as residents' high income levels.