Basehor-Linwood boys soccer ends losing streak Monday, strong in defeat on Tuesday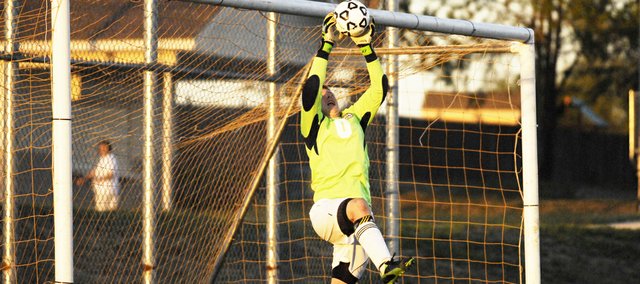 Photo Gallery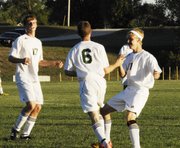 Basehor-Linwood boys soccer tops Immaculata 9-0
The Bobcats ended a four-game losing streak on Sept. 10 with a 9-0 victory against Immaculata.
Senior Trey Kincheloe was darting across the field, beating Immaculata defenders at will. After fellow senior Juho Luomajoki's second-half goal put Basehor-Linwood well on its way to a 9-0 slump-busting victory on Monday, Luomajoki howled and yipped from the penalty box back toward the Bobcats' bench, ending the celebration with a somersault.
For the first time since the season opener, the Bobcats were victorious. For the first time in awhile, they were back to full strength and clicking again.
"We're all back finally," coach Austin Knipp said. "I think it gave the team a lot of confidence. They seemed like there were more comfortable out there."
Kincheloe returned midway through the first half after having missed the last three games because of suspension. Luomajoki sat out last week's 1-0 loss to Baldwin with a high fever.
Minutes after Kincheloe's return to the field, Basehor-Linwood (2-5) got on the board with two goals from sophomore Zach Ferguson. By the end of the night, Kincheloe and Ferguson each notched hat tricks.
"It's nice to actually get back in our groove," Kincheloe said. "We've had a lot of troubles the past couple games so it's nice to actually work together and score."
The next night, at Bishop Ward, the Bobcats lost 1-0. In previous weeks, the mood following a loss was more somber. This time, Knipp found much to applaud.
"Our defense was stellar in the second half," he said of Tuesday's result. "Best half they've played all year by winning every 50-50 ball and hard physical pressure."
Since losing senior Lane Young for the season with an ACL injury, the Bobcats have been tested more than most. An on-field altercation against Tonganoxie on Aug. 31 led to Kincheloe's suspension, and the spate of misfortune magnified in losses at Topeka Hayden and against Baldwin.
But on Monday, it was as if the season were beginning again. Kincheloe, who said he practiced on a goal in his backyard while serving his suspension, now has seven goals this season after his sequel to his Aug. 30 hat trick against Maranatha Christian Academy.
For every goal Ferguson scored, he had at least two chances to add another, as he was a constant presence (and threat) all night against an undersized Immaculata squad.
"I hope what they learn is that they can get through anything," Knipp said. "It's not every day that teams go through that."
Senior Sammy Seaton and junior Sean Potter also added goals on Monday.
Both Knipp and Kincheloe agreed that more work was to be done, especially in getting the offense to convert more of its opportunities in front of the net. Perhaps now, with a lineup as close to its opening day squad as possible, the Bobcats offense can get going again.
For the first 25 minutes against Immaculata on Monday, the Basehor-Linwood attach was a story without an ending, dazzling with touches in front of and in the box, but failing to send it home. When Kincheloe subbed in, all that changed.
"His presence alone gives these guys a higher level of confidence for sure," Knipp said. "They play at a little different level when he's there."
Against the Cyclones on Tuesday, however, the Bobcats couldn't get a shot on goal. Basehor-Linwood hosts Sumner Academy at 6 p.m. on Monday.