Bobcat volleyball sweeps Tonganoxie at home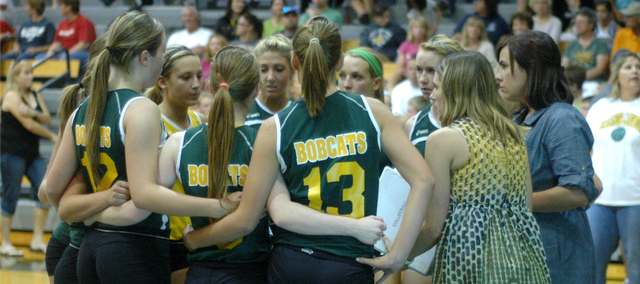 Before Tuesday's match against Tonganoxie ever got under way, Basehor-Linwood volleyball coach Amy Irvin knew her squad was in for a battle. After all, it's hard not to get fired up when one of your biggest rivals comes to town, right?
As it turns out, the Bobcats were up to the challenge, as they downed the Chieftains in straight sets, 25-20, 25-21 and 25-22.
"It helps when you're playing a rival high school," Irvin said. "That's not to say we don't do that every time, but it definitely helps when you have that desire to beat who you're playing."
Basehor-Linwood got off to a shaky start, allowing Tonganoxie to take a 15-9 lead in the first set. But the Bobcats responded with an 8-1 run to take their first lead of the night.
The teams then battled to a 19-19 tie before the Bobcats closed out the set on a 6-1 scoring burst.
The Chieftains lost middle blocker Katelyn Waldeier in the opening set when she got entangled with another player at the net and rolled her ankle.
"Having Waldeier get hurt early in the match really hurt us," Tonganoxie coach Tiffany Parker said. "That really put more of the focus than usual on our outside hitters. When other teams know that's who's getting the ball, that hurts."
The second set unfolded into a back-and-forth affair, as the teams battled to a 12-12 tie midway though the set.
Basehor-Linwood scored the next three points, giving itself some breathing room and prompting a Chieftain timeout. Tonganoxie couldn't recover, as the Bobcats gradually pulled away to take a 2-0 lead.
Irvin's squad found itself in yet another seesaw battle in the third. Tonganoxie took a 17-15 lead, but then allowed Basehor-Linwood to grab the momentum with five straight points.
The Bobcats allowed the Chieftains to get within one point on two occasions, but scored two of the last three points to cap off the sweep.
"We played very well tonight as a team," Irvin said. "At times, we've been struggling with getting down on ourselves and not allowing our teammates to pick up. Tonight, we did the complete opposite.
"It was never in doubt. I never thought we were going to crash, but it was just a very intense night."
Basehor-Linwood will hit the court again at 5 p.m. Thursday when it travels to Lansing.